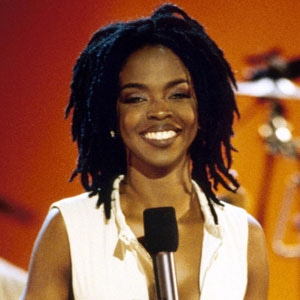 KMazur/WireImage.com
Lauryn Hill may not be coming clean about her who exactly her baby daddy is, but she's at least telling us who he isn't.
The singer, who welcomed a baby boy on Saturday, would not reveal the identity of the child's father, even after rumors circulated that it was maybe not her longtime ex Rohan Marley, with whom she shares five other children.
Hill had taken time off from work to give birth and had originally claimed Marley was the dad.
What's she saying now?
The rapper tweeted a link to a statement confirming, if you read between the lines, that Marley is not the father of her sixth child.
"Mr. Marley and I have a long and complex history about which MANY inaccuracies have been reported since the beginning," she says. "To speculate without the facts can only cause people to form WRONG conclusions. We both value privacy and for that reason defend and preserve our right to it. Contrary to the numerous reports, Mr. Marley did not abandon me while pregnant with his child. We have had long periods of separation over the years but our 5 children together remain a joy to both of us. Thank you for your concern and I appreciate all of the well wishes regarding the birth of my new son."
The Grammy winner had rarely discussed the duo's relationship or family prior to the statement, but Marley also came clean on Twitter, saying "forwarding all well wishes to Ms. Hill on the birth of her new son."
Not our new son. He is also seen in a picture in an embrace with another woman.
Last month, in a Twitter exchange with a reporter from the Houston Chronicle, Marley, the son of Bob Marley, was asked: "So we are clear. 1.) You're not married to your ex-wife or Lauryn, and 2.) She isn't preggo w/your child, but someone else's?"
He had responded, "That is correct until I say out of my mouth to the contrary."
Grammy winner Hill had taken time off to give birth and had originally claimed the father was Marley.
Now we just want to know who the baby daddy actually is.