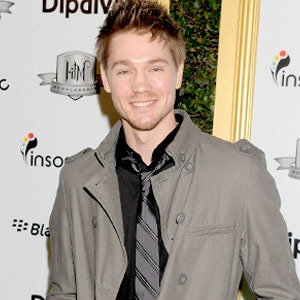 Todd Williamson/WireImage.com
Chad Michael Murray doesn't exactly have the best reputation in H'wood.
In fact, it's downright douchey. In case you need a quickie recap: CMM tied the knot with his One Tree Hill costar Sophia Bush. Then the duo had their marriage undone while rumors swirled that he had cheated with Paris Hilton. Then there were more rumors of diva-y behavior on set and he eventually left (or was booted from?) the CW show.
After that, guess Chad stopped fueling tabloid headlines...or they stopped caring about him. So when we caught up with Chad while he was out promoting Everlast, a graphic novel he penned, we wanted to know what he thought about his fall from tabloid infamy:
"Um, you know, I was a kid," CMM told us when we asked about his troublesome past. "And I guess I just I didn't see things as clear as I wish I did. I was just living my life, going out, and I changed everything."
And everybody deserves a second chance, right? Just look at Mel Gibson or Charlie Sheen. They've had about 10 second chances each and the crap they pulled was worse than anything Chad did in his playboy golden years.
And Chad really seems to have ditched late nights in clubs with hotel heiresses, at least.
"I don't go out. I don't do any of those things anymore," Chad 'fessed. "I really like keeping a very low profile. When you're young and you're thrown into something that I was definitely not ready for—I'm human and screw up. I'm glad I went through it, I really am, because I wouldn't have come out the other side."
Must admit: CMM does seem to have changed in a handful of ways, the least of which is that he's managed to stick with his girlfriend for about five years now. Tho, the two don't plan on tying the knot anytime soon.
"No, we're good. We're happy," Chad said when we asked if wedding bells would be ringing anytime soon. "Things right now are perfect. We're very happy. We're not forcing anything. We're just living life."
The same 'tude comes into play for another oft-rumored rendezvous that's yet to take place: Murray's return to One Tree Hill for the show's final season.
"I honestly haven't heard a word. I haven't heard anything," Chad claims. "I know how much the fans want it, and for the fans, I think I would definitely do that. Absolutely.
"But I don't know where they're taking the storyline. It's all up in the air. I'm supposed to start shooting another movie in September, so if everything works out, we'll give one for the fans."
Kinda cagey, but guess that goes to show his split from the show wasn't as peaceful as CW peeps wanted you to believe. That said: We won't be holding our breath for the long-desired TV reunion!
And we're sure that's A-OK with Sophia as well.