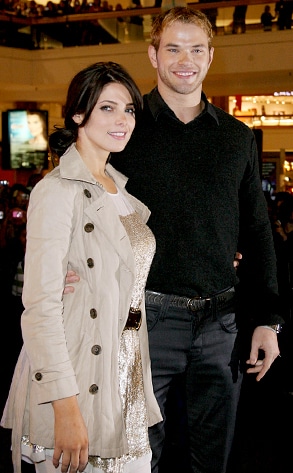 Tasos Katopodis/Getty Images
They're already vampire costars and BFFs. And now, Kellan Lutz and Ashley Greene may be moving in together!
The Twilight hunk tells me that he's considering splitting an apartment with his castmate so they can both be bicoastal.
"I was talking to Ashley about maybe sharing a place out here in New York," Kellan told me last night at DKNY's Summer Sunglass Soiree in NYC.
So would they be actual roommates and everything?
"We're never here at the same time but we both love New York. So we'd be rooommates without being roommates...more like housemates!" he explained.
Kellan also says he's not sad that filming on the Twilight saga has finally wrapped, because now all the fun stuff with his cast is coming up.
"I really look forward to the tours," he told me. "I love the premieres, I love the fan conventions, but shooting the movie is kind of the tough part. It's so long being away and it's gloomy where we shoot. I'm not sad that we're actually done with the movie because we have all these other amazing things coming up."
The actor, who just returned from Comic-Con in San Diego, didn't get to see Rob Pattinson's new haircut in person at the convention, but he approves.
"I've only seen a picture of it. He looks pretty badass!" Kellan shared.
Also hanging at the DKNY soiree at the Dream Hotel pool was Katie Cassidy, Jessica Szohr and Kevin Jonas with his wife Danielle.