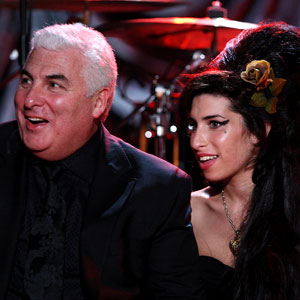 Peter Macdiarmid/Getty Images for NARAS
As with any parent who loses a child early (or ever), a eulogy just wasn't enough.
Hours after friends and family gathered to pay their respects to Amy Winehouse, father Mitch Winehouse released a lengthy and touching statement paying further tribute to the memory of his daughter, whom he described as being, prior to her sudden death, "the happiest she has been for years," and whom he called, quite simply, "the greatest."
Mitch, who by all accounts was extraordinarily close to his 27-year-old daughter, is speaking out not only on Amy's legacy as a musician, but on her life in general, her "fantastic recovery," and even her recent happiness, found largely thanks to love with her new boyfriend Reg Traviss.
"Amy was the greatest daughter, family member and friend you could ever have," he said. "Recently Amy found love with Reg. He helped her with her problems and Amy was looking forward to their future together. She was the happiest she has been for years."
Recalling one of her triumphant performances at London's 100 Club, he recollected that "her voice was good, her wit and timing were perfect."
"She told me that she had 'thoroughly, thoroughly enjoyed herself.' The last time she called me she had found a box of old family photos and called me to go over to look. We spoke three times a day at least, she was very excited."
Mitch also touched on his daughter's infamous battle with drugs, noting that "three years ago, Amy conquered her drug dependency, the doctors said it was impossible, but she really did it."
While that statement may raise some eyebrows, Mitch went on to say that the only demon she was currently battling was drinking, but that she was making great strides there, too.
"She was trying hard to deal with her drinking and had just completed three weeks of abstinence. She said, 'Dad, I've had enough, I can't stand the look on your and the family's faces anymore.'"
As for Amy's mental state, Winehouse shot down any notion that she was suffering, and painted a picture of her happy final hours of life.
"She was not depressed," he said. "She saw [her mother] Janis and Reg on Friday and was in good spirits. That night, she was in her room, playing drums and singing. As it was late, her security guard said to keep it quiet and she did.
"He heard her walking around for a while and when he went to check on her in the morning, he thought she was asleep. He went back a few hours later, that was when he realized she was not breathing and called for help."
Still, tragic as the loss of Winehouse is for the family, Mitch said they found some comfort in the circumstances.
"But knowing she wasn't depressed, knowing she passed away, knowing she passed away happy, it makes us all feel better."
He also seemingly took the opportunity to announce plans for a foundation in his daughter's name in order to help those struggling with the same problems that plagued the singer.
"I was in New York with my cousin Michael when I heard and straight away, I said I wanted an Amy Winehouse Foundation, something to help the things she loved—children, horses, but also to help those struggling with substance abuse."
Amy's remains were cremated in London earlier today. The family is currently sitting Shiva in her honor, and a cause of death for the singer isn't expected for at least two more weeks.