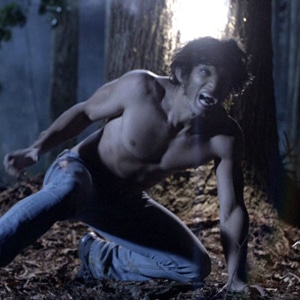 MTV
Taylor Lautner has glittery Robert Pattinson. Joe Manganiello has sexy Viking Alexander Skarsgård. But where is the vamp counterpart to Tyler Posey's teen werewolf?
We sat down with the cast and crew of the MTV series Teen Wolf at Comic-Con and had to know if we'd see the boys go toe-to-toe with some vampires when they start season two.
Ditch your garlic and wooden bullets, 'cause:
This series is staying free of fangs.
"There will never be vampires," Tyler Hoechlin promised us. "Vampires have been nixed. But other supernatural creatures, I think there's an open mind."
And incase his word isn't enough for ya, the show's head writing honcho, Jeff Davis, confirms: "We're werewolves for now. I always say there will be no vampires on the show, but ask me in five years when we run out of ideas."
Oh well. At least he knows that nothing delivers a ratings boost quite like shirtless bloodsuckers, which means there's still hopes.
Instead, the show will be taking a page from the True Blood book of shape swappin' tricks. The cast was happy to tease human-to-animal transformations that don't involve wolves:
"It's more, mutations of werewolves," star Colton Hayes hinted before Jeff jumped in, "Werebears. Wearpanthers. There's a whole list of ideas…"
Can we make one suggestion then? Keep your werepanths out of the trailer park. 'Cause the hillbilly type didn't exactly work out for Jason Stackhouse and his Bon Temps brethren.
Oh and in case you're wondering whether any new wolves will be popping up on the series any time soon, well, you bet your hairy ass there will be!
Jeff reveals: "By the end of the season, not everyone makes it out alive and not everyone necessarily makes it out human."
So which of the show's cutie cast mates do you think will find him (or her!) self howlin' at the moon next?