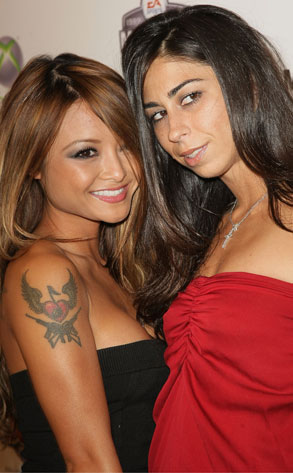 Noel Vasquez/Getty Images
This probably isn't the kind of shot that Tila Tequila was talking about.
Courtenay Semel, daughter of former Yahoo! mogul Terry Semel and current girlfriend of the equal-opportunity MTV star, was cited Wednesday in Las Vegas for misdemeanor battery after allegedly hitting a nightclub security guard on the back of the head.
Vegas Metropolitan Police Department spokesman Officer Jay Rivera told E! News that Semel was trying to get into Caesars Palace hot spot Pure when she got into an argument with a bouncer at about 4 a.m.
She had a "passport and a California I.D. in her possession, one of which was not in her name, and at that time she was detained by security," Rivera said.
A source tells us that Semel had already spent the majority of the night at Pure and had no trouble getting in originally, so she couldn't say what led to the drama in the wee hours of the morning.
Police confirm that Semel, a former pal of Lindsay Lohan who had her own reality-TV moment on E!'s privileged-kids-become-ranch-hands series Filthy Rich: Cattle Drive, was cited and released. She now has two options—either pay a fine or appear before a Sin City judge to plead her case. (E! Online is a division of E! Entertainment.)