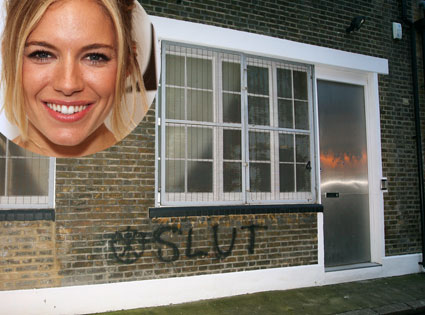 Gotcha Images / Splash News, Dave Hogan/Getty Images
• Sienna Miller's house was vandalized last night with the word slut and what the Sun tabloid surmises to be "the sign for Satan" (though it might just be the international symbol for fresh-baked pie). We agree those topless pics with still-married Balthazar Getty weren't in the best of taste, but is this really necessary? And shouldn't Getty be getting as much crap as her?
• Dear Terrence Howard, we like you better when you're acting, not making awful music videos.
• Jerry O'Connell thinks it would be funny to name his twins Mary-Kate and Ashley. Ha! This dude never quits, does he?
• The new Dancing With the Stars lineup has supposedly leaked; the official announcement will come this Monday.
• The Hills' Whitney could already have another new job, this time doing in-house PR for Diane Von Furstenberg. That's in addition to her other job of asking Lauren how things are going and making weird faces.