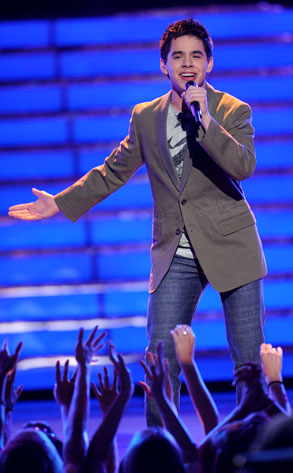 FOX
David Cook topped David Archuleta in their American Idol showdown, but now the little D has gotten some extra-large revenge.
The 17-year-old Archuleta's "Crush" has debuted at No. 2 on the Hot 100 singles chart, besting the No. 3 opening of Cook's "The Time of My Life" in June.
In fact, Archuleta just netted the biggest bow since Fall Out Boy's "This Ain't a Scene, It's an Arms Race" also debuted at No. 2 back in January 2007.
Archuleta is the first runner-up to outperform the reigning champ since the head-to-head matchup between Clay Aiken's "This Is the Night" and season-two victor Ruben Studdard's "Flying Without Wings." Aiken topped Studdard with what became the best-selling single of 2003.
"Crush" is the biggest bow by an Idol contestant for a song never performed on the show—in comparison, his show single "Imagine" actually underperformed with a No. 36 debut. Kelly Clarkson's "Since U Been Gone" is the only other nondebut single by an Idol contestant to reach as high as the No. 2 spot.
While Archuleta now claims the higher Hot 100 debut, Cook's "The Time of My Life" did better in the download department, selling 236,000 digital copies in its opening week to 166,000 copies for "Crush." Cook also set a SoundScan-era record that first week, when 11 of his songs cracked the Hot 100, topping Miley Cyrus' record of six. Only the Beatles have charted more songs at once with 14 spots back in '64.
Unfortunately for Cook, his No. 3 peak for "Time" also made him just the second Idol champ whose big-moment single failed to open in one of the top two spots. (Jordin Sparks missed the mark as well with a tepid No. 15 bow for "This Is My Now.")
Next up, the two Davids will go mano a mano in November, when both their albums are tentatively scheduled for release.
Idol wars notwithstanding, Rihanna's "Disturbia" was the big chart news, nailing down the No. 1 slot on the singles chart for a second straight week, while her previous chart topper, "Take a Bow," rose to No. 1 on the R&B/Hip-Hop chart.
In other Hot 100 news, Taylor Swift's "Change" sold 131,000 digital downloads for a No. 10 debut, making it her highest-charting single and the first top 10 entry of her young career. "Change," which will also appear on her forthcoming Fearless album, leads five song debuts from the AT&T Team USA compilation.
While Kid Rock's "All Summer Long" hasn't been released as a digital single, the faceless Hit Masters cover version debuted at No. 65 this week on 37,000 downloads. The Kid's version, meanwhile, climbed three spots to No. 25 on airplay alone.
Making news on the other charts, Coldplay scored its first Modern Rock chart topper with "Viva la Vida."