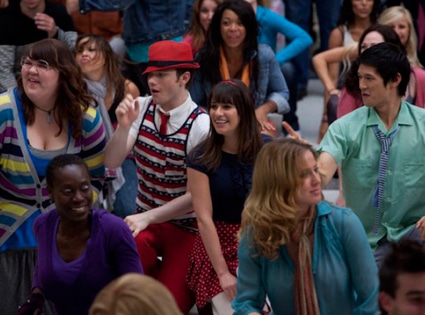 Adam Rose/FOX
When Glee graduates Lea Michele, Cory Monteith, Chris Colfer and maybe more at the end of next season, it'll be keeping it real—and taking a risk.
Or will it?
To be sure, TV series have routinely thrived after swapping out one star. Here's a look at how five shows survived (or not) swapping out several stars:
1. The Facts of Life:  Between seasons one and two, four Eastland school girls, including the tween-aged Molly Ringwald, got transfered out. The downsizing worked. The show climbed in the Nielsen standings, and ran eight more years. Glee, however, will try the trick between seasons three and four. Big difference.
2. Saturday Night Live: This show has gone through a few wholesale makeovers—with mixed results. The first big one, in 1980, after the original, iconic Not Ready for Primetime Players departed, was a critical and ratings disaster. But, take heart, Glee. The format ultimately was king, and the format still rules.
3. American Idol: Speaking of formats that can't be stopped… We included this show in our rundown of series that survived the defection of a single star (Simon Cowell), but, really, the judges' table on Idol 2011 looked (almost) completely different from the judges' table from 2010. Even the show's intro, rules and early rounds looked different. Despite, or because of, the changes, the show got bigger. In short, this is Glee's idol.
4. Charles in Charge: An extreme makeover that worked. Canceled after one season on CBS, the show was revived a couple years later in syndication, where manny Scott Baio got an entirely new set of TV charges—and the show got more than 100-plus episodes of extended life. This series just may be Mr. Schue's idol.
5. The Jeff Foxworthy Show: An extreme makeover that didn't work. Canceled after one season on NBC, the sitcom was revived on ABC, where Foxworthy got a new TV wife, a new TV son (Jerry Maguire's Jonathan Lipnicki, who became a sibling of season-one holdover Haley Joel Osment), new TV friends and a new TV home. Its Nielsen ranking improved, but the show got canceled. Again. Definitely not a tale to inspire.
Elsewhere, here's a quick look at some of the ratings winners, per the latest broadcast and cable standings: 
• U.S. women's soccer: Yes, the team lost in the World Cup finals to Japan, but the game on ESPN was the No. 1 cable show, with nearly as many viewers as the No. 1 broadcast show, America's Got Talent.
• The Closer: Take that, Emmy snub. The Kyra Sedwick show began its seventh season as cable's most-watched drama or comedy series. 
• True Blood: Take that, Emmy snub—part two. The vampire series held steady (and big) as cable's No. 4 drama or comedy series, with 5.1 million viewers.
• Friday Night Lights: It went out on top—or, in 79th place, if you want to be technical about it.