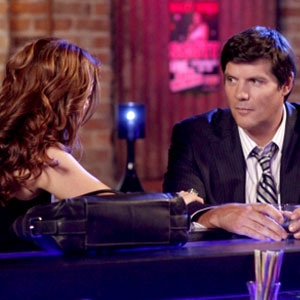 FRED NORRIS /The CW
There are no words to describe how happy we are to break this casting news for you guys. Let's just say when we found out, we squealed very quietly very loudly in our chairs.
Paul Johansson, who plays one of our favorite TV baddies ever, will be returning to One Tree Hill for the ninth and final season. So lock your doors and hide your loved ones, because Dan Scott is back...
We can reveal exclusively that Johansson is returning as a series regular next season on One Tree Hill. No guest-starring role here: Dan Scott is back full-time. Last time we saw him, he was divorced from Rachel (Danneel Harris) and pretty much living the straight and narrow in the season-eight finale when Nathan (James Lafferty) visits him to drop off a photograph of new daughter Lydia and a baseball from Jamie.
But we know Dan just a little too well. And we doubt his full-season gig will be all sunshine and puppies. If we learned one thing in eight seasons of OTH, it's to never trust Dan Scott.
Our friends at Zap2It revealed that Tyler Hilton would return for season nine as well (with TVLine confirming his regular season status), so it looks like Mark Schwahn and Co. are rounding up as many OTHers as possible. And you know what? We are definitely comfortable with that strategy.
Now we're only waiting on Lucas (Chad Michael Murray) and Peyton's (Hillarie Burton) big return, and we'll be all set to send off One Tree Hill in spectacular fashion.
Excited for Dan's return? What other past OTH characters do you want to see come back? Start speculating on Dan's evil plans...now!