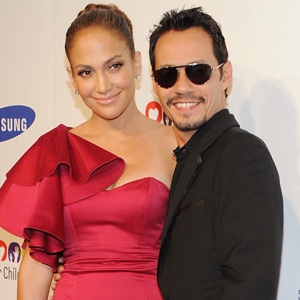 Jason Kempin/Getty Images
Jennifer Lopez isn't letting her just-announced separation from Marc Anthony slow her down.
E! News has learned exclusively the singer is preparing to head out of the country next week.
Where is she planning to go? Read on…
The American Idol judge is heading to the Ukraine next week. So…is this the new post-split place to party or something?
No, but she will have plenty to celebrate because a source tells E! News that Lopez is getting paid more than $1 million dollars to sing a live set at a wedding in Ukraine on Tuesday.
"It's a wealthy guy who wanted J.Lo and was willing to pay top dollar," says the source.
Lopez's twins, Max and Emme, aren't expected to make the trip with her, according to the source.
Such private gigs are growing more common, as stars like Christina Aguilera and Miley Cyrus have reportedly fetched a million bucks to be wedding singers in the past.
Lopez's rep confirms the engagement, if not the payday, exclusively telling E! News:
"Jennifer will be performing in the Ukraine. Terms of the agreement can not be confirmed."