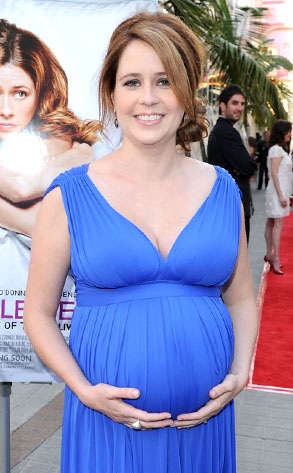 Craig Barritt/WireImage
Pregnant life is treating Jenna Fischer very well.
"I've been really lucky, I've had a really easy pregnancy," the Office star told us last night at the L.A. premiere of her new indie flick A Little Help.
However...
"Before all the pregnant women at home get mad at me for saying that, I just want them all to know that, while I did not have morning sickness, I have plenty of cellulite and it's okay," she said. "I've been cursed in other ways."
As for cravings, Fischer says, "They change. In the beginning it was a lot of macaroni and cheese and Lucky Charms. Now it's a lot of strawberries."
Fischer's Office pal Angela Kinsey was also on hand at last night's premiere for support, as were castmates Oscar Nuñez, Ed Helms, Ellie Kemper and Kate Flannery.
"She'll make such a lovely mother," gushed Kinsey. "Jenna is very self-sacrificing. The people that she loves in her life always come first. I think parenting means being self-sacrificing...and Jenna's so nurturing and caring in that way."
So how does Fischer feel about naming her little one Angela or Angelo after Kinsey?
"Maybe for a middle name," she laughed.
—Marc Malkin is on vacation.