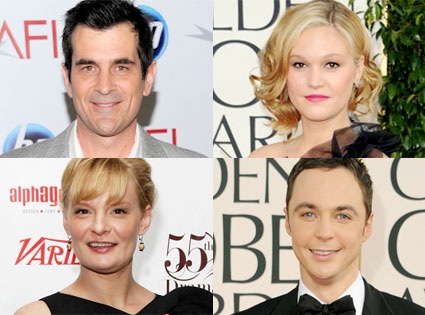 Alberto E. Rodriguez/Getty Images; Jason Merritt/Getty Image; Neilson Barnard/Getty Images; Jason Merritt/Getty Image
The second best part of Emmy nominations day (besides, you know, actually getting the nominations), is hearing all the reactions from the lucky group who picked up nods for their performances, TV shows, writing, etc.
Ranging from humble to crazy-excited, the best of TV had lots to say about their noms, and we've rounded them up so you could vote for the best. Plus, you'll never guess who said this little gem: "Apparently my dog is so excited, she has explosive diarrhea."
You Like Me! You Really Like Me: Humble is often the way to go when it's your first time nominated, or if you're simply too sleepy to think of a clever reaction quote. Here are some of our favorite straight-forward "I'm honored" statements:
Jason Merritt/Getty Images
"After all of these years in the industry, I am so touched and honored to be nominated for the first time for an Emmy Award—especially on such a great show that I look forward to coming to everyday."—Ed O'Neill, Modern Family
"All the coffee in Columbia could not catch my brain up to my heart's pace this morning—I couldn't possibly be more thrilled/honored/touched at the news of this nomination."—Johnny Galecki, The Big Bang Theory
"It's such an honor to be nominated. What a nice surprise. This was my first experience working in television and I am so proud to have been a part of Dexter and to be in such good company with my fellow nominees."—Julia Stiles, Dexter
"I am so grateful and honored to be nominated. Working on Grey's Anatomy for the past few seasons has been a blessing and I have loved developing the character, Adele. I am so thankful to have had the opportunity to work with Shonda Rhimes and I want to thank her for keeping my character alive for all of these seasons."—Loretta Devine, Grey's Anatomy
Sleeper Picks and Location, Location, Location: What is it about the Emmy noms that lead actors to tell us they were asleep? It just makes us jealous, because we journalists have to be up with the nominations. Next year we're sleeping in and making our interns text us the lists. Anyway, here are the quotes that detail where they were and what they were doing when the news broke:
Glenn Weiner/ZUMAPress.com
"I was in fact asleep during the nominations—it truly is the 'I'm in bed asleep' story—'cause, you know, I'm in L.A. and it's freakin' early, dude! Kyle [Chandler] called me and was like, 'I just jumped in the pool with my wife!' 'Cause he's in Austin, and he was thrilled. I told him he better not blow out of the Emmys early like he did last year."— Connie Britton, Friday Night Lights
"I was sitting in a café in London with my husband and baby daughter when my phone rang with the news! I feel so incredibly lucky and honored to be nominated, and so grateful to be part of the family that is The Killing."—Mireille Enos, The Killing
"I was actually out of the house, taking my friends to the ferry on Fire Island, so I was away when I got the first couple of calls. It would be silly to start to expect things like this to happen. So yes, I was surprised. The good thing about being on Fire Island is that Internet-wise, it's like 1982 there. It's pretty easy to disconnect."—John Slattery, Mad Men
"I'm in New York right now. I was up, I had had my coffee, the Today show was on. It was so civilized. I can't believe the civilized way in which New Yorkers get to hear these things. I've only known them as [happening in L.A. at] 5 am, crack-of-dawn, the sun's not up even…you can't get your bearings about you. The very first text I got was from [costar] Simon Helberg's wife, Jocelyn. That's a good friend. She beat my mother by at least 30 minutes. I'm not kidding."—Jim Parsons, The Big Bang Theory
Make Us Laugh, Clowns: Just because they were nominated in drama categories, doesn't mean that they can't crack us up with their reactions. And of course, our comedy king and queens also had to remind us why they got Emmy nods. Here are some of the silly quotes from the nominees:
Mathew Imaging/Getty Images
"In a year when nothing much has happened on our show and you could barely find a word about me or my costars on the Internet, it is lovely to be recognized by the Academy in this way!"—Jon Cryer, Two and a Half Men
"Luther has been such a passion project for me and working on The Big C was a great time. Also, my daughter told me I am going to be as famous as the guy from Twilight."—Idris Elba, The Big C, Luther
"Woke up this morning to the incredible news that I was nominated for an Emmy, and a shower full of dog poop. Apparently my dog is so excited, she has explosive diarrhea. I truly could not be more thankful to the Emmy voters for including me in this brilliant company of extraordinary women. Now, if you'll excuse me, I have to go clean up an enormous amount of dog poop out of my shower. Yay!"— Martha Plimpton, Raising Hope
 "I would like to propose that these awards be settled by feats of strength.  I would still lose to everyone, including both Chris Colfer and Jon Cryer, but it would be worth it to see us all in singlets."—Ty Burrell, Modern Family
"I talked to [executive producer] Mike Schur last night and asked him if he was going to watch it live and he said, 'No, it makes me too nervous.' And I said, 'F--k that, it's The Secret! Turn around and look at it in the eye, it's going to happen!' I'm so excited. I've had, like, four sugar donuts and I'm eating Greek yogurt with honey and I'm about to blast out of here."—Amy Poehler, Parks and Recreation
2011 Emmy Reactions: Who Said It Best?