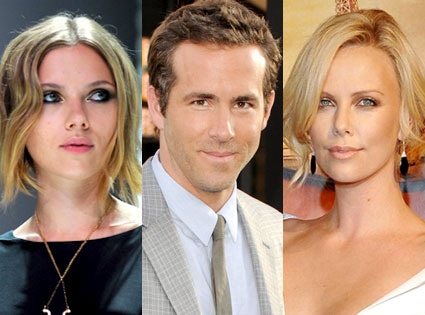 Robert Marquardt/WireImage; Jason Merritt/Getty Images; Sipa Via AP Images
When you're dubbed People's Sexiest Man Alive, you can apparently get whatever woman you want. Even if you just divorced her.
Ryan Reynolds was spotted getting flirty with ex-wife Scarlett Johansson at L.A.'s Little Dom restaurant last weekend. A source at the restaurant told People, "They were leaning in closely to each other when talking. They were being flirty."
This story comes just on the heels of a supposed secret romance between the divorced actor and South African beauty Charlize Theron.
So what's the deal, Ryan? Who's your lucky lady already?
Both, apparently.
Although their divorce was recently finalized, it seems the Green Lantern star isn't fully over his ex. Two months ago he admitted he was "not out of it yet," so maybe a little dinner date is just the closure he needs.
And whatever tears he might have shed, looks like they'll be comforted by Ms. Theron.
"They're both career-focused but not in a crazy way," a source told Us Weekly. An eyewitness spotted the actor leaving the gorgeous gal's house on July 5, and the source confirms that "they're exclusive, and it's very hush-hush."
Never ones to comment on their private lives, the maybe couple is trying their best to fly under the radar. Neither reps returned our requests for a comment.
One thing's for sure...the man has a thing for blondes!