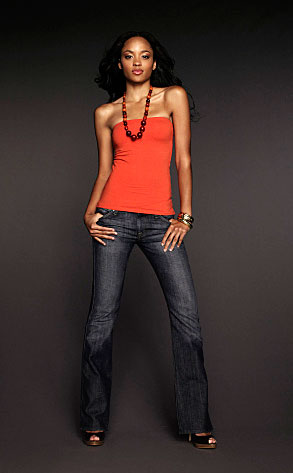 Jim DeYonker /The CW
Hey, awesome Answer B!tch! I am an avid watcher of America's Next Top Model, and I was wondering how many past winners actually have modeling careers. Is anyone really a top model, or even a working model, once the prize fulfillment with CoverGirl is over? I read many fashion mags and have yet to see anyone.
—Kristi, Rockford, Illinois
First off, congrats to you, Seleisha. No one rocks a Three Stooges bowl cut like you do, girl, and all while making fun of someone with mild autism. Now that's multitasking.
If I ever need a model to sell my citrus-scented lip gloss while simultaneously thinking up ways to make the mentally disabled feel even worse about themselves, you and Bianca will be the first models I'll call. Make sure to wait by the phone. This could happen any second now.
Kristi, your question is a good one, and I've got an even better answer—and from a high-fashion modeling insider.
"The fashion industry doesn't take the show seriously," says my source, who worked in the modeling field for years. "Clients are finicky about choosing their own faces. People like to select their own girls, and to be handed a girl that someone else has deemed fabulous—that equation doesn't really work out."
Right. Prada can find its own pliant, insectoid girls with no vowels in their last names, thanks very much. Besides, Tyra's girls are only pliant, not pliant and insectoid, like Daria Werbowy or Lily Donaldson.
Besides, my source says, do you have any idea how terribly small the high-fashion modeling scene really is? There's just no room for another girl, not even a really skinny girl with a following on the CW.
"The group of high-fashion girls who do the Vogues, the W spreads, the editorial spreads, the superluxury campaigns and runway is a really tiny group," my source says. "Maybe—maybe—100 girls around the world."
And remember: Some of those girls are picked for dozens of gigs every season, while others get no work at all.
To be fair, the Top Model winners have scored some decent gigs. Jaslene Gonzalez became the face of a brand called Lot 29 back in September. CariDee English landed a national campaign with JC Penney. I've even seen runner-up Mercedes Scelba-Shorte walking the runway during L.A. Fashion Week.
But again, many designers don't want anything to overshadow their brand or the looks they've worked hard to create. If a Chanel or a Louis Vuitton were to cast Jaslene for a campaign, what would be the first thought in your head: Gee, what a nice pair of turquoise python leggings! or Hey, that's Jaslene from Top Model! And she's wearing something!
See? Unless a fledgling designer really needs that boost from a semicelebrity, a Top Model winner could actually hinder an expensive campaign.
Unless that campaign is for anti-autism lip gloss. Then I know exactly whom to call.