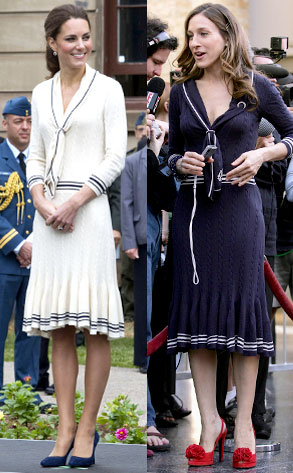 Pool/Getty Images; Mainz/Getty Images
It is Kate Middleton's first trip to the Americas, so it's only natural that she might be inspired by one of this shore's most fabulous fashionistas.
The Duchess stepped out in a white, sailor-style sweater dress by Alexander McQueen with blue Prada pumps Monday as part of her official visit to Canada's Prince Edward Island.
It's almost identical to the navy version Sarah Jessica Parker wore back in 2006—albeit with red pompom heels—while attending the unveiling of husband Matthew Broderick's star on the Hollywood Walk of Fame.
So who wears it best: the future queen of England or SATC's leading lady? Sound off below!