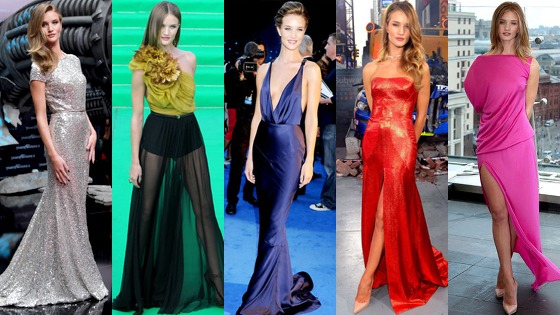 Replacing Megan Fox in the blockbuster Transformers franchise was no easy feat, but newcomer Rosie Huntington-Whiteley caused a sensation when she stepped out looking stunning in nearly every promotional stop.
And there were a lot of stops.
From her sparkly silver turn in Naeem Khan in Berlin to the sexy plunging blue Burberry gown in London to the drop-dead stunning red Antonio Berardi dress in NYC, Rosie was dripping with movie-star glam as she crisscrossed the globe. (Her slouchy pink Michael Kors gown for Rio was also fab, and the only little hiccup was the sheer Gucci skirt in Moscow.)  
And we haven't even started on her daytime looks yet...
RHW went casual chic in the Row's silk tank and slacks outside Regis & Kelly. The 24-year-old rocked a belted cream halter top and slacks by Michael Kors outside the David Letterman studios.
Her two black outfits (Brazil photo call on the left, Tonight Show on the right) weren't the best, but Rosie made up for it with the va-va-voom red Stella McCartney dress at the Berlin photo call.
There were so many jaw-dropping fashion moments on this Transformers: Dark of the Moon tour, it's hard to choose a favorite.
For evening, we're going with the fabulous blue Burberry gown, and for day, the cream Michael Kors ensemble.
How about you? Weigh in below!