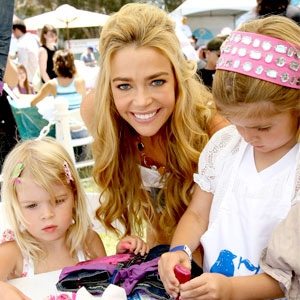 Alexandra Wyman/WireImage.com
As if we needed further proof that no one needs Charlie Sheen to get things done.
Denise Richards is now a mother of three after recently adopting a baby girl from the U.S., her rep confirmed Wednesday to E! News.
But even though the former It's Complicated star is doing the single-parenting thing these days, the adoption was a family affair: Daughters Sam and Lola were tasked with giving their little sister a name!
"Eloise Joni Richards is named after Denise's mom (Joni) and Denise and her daughters Sami and Lola chose the name Eloise," the rep said. "Denise and Eloise's big sisters couldn't be happier and feel incredibly blessed."
Ironically, the Richards and her kids were staying in the Eloise Suite at the Plaza Hotel when Sheen suffered his famous "allergic reaction" down the hall and scared the socks off a porn star last year.
But at least now we can assume that Sam and Lola remain unscarred and remember their time in New York fondly.
Congrats to Denise and her little ladies!