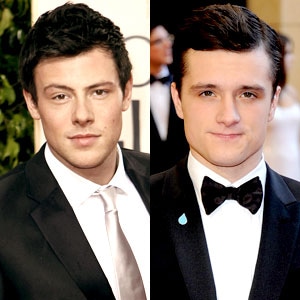 AP Photo/Matt Sayles; Ethan Miller/Getty Images
As if we didn't love Cory Monteith and Josh Hutcherson enough for their funnyguy ways, the hunks have given us another reason to root for 'em: They're totally speaking their minds when it comes to LGBT issues.
Both boys are working with Straight but Not Narrow, which is about "dudes talking to dudes about dudes that like dudes." If that last part may have left you scratching your head, read it again. It's a pretty cool campaign.
Joshy released a PSA a few months ago, and Cory's vid will hit the net on Friday. So we wanted to know what got these guys talking gay in the first place:
"One of the main things that is important to us is working with people for whom this is something that's important to them," Andre Pochon, one of the brains behind SBNN, told us. "And they really express an interest in it, not just an, 'Oh that's cool, sure, I'll do a video if you want' kind of thing."
As for the Kids Are All Right turned Hunger Games star:
"Josh is one of those guys who's had two gay uncles for his whole life and gay rights has always been a big part of his family in general," Andre dished. "It was one of the things he was actually interested in doing something about in the first place, so he said yes. And it was as simple as that."
It's nice to hear that some up-and-coming kids care more about worthy causes than red carpet appearances!
We're told Josh will be making another appearance in a viral video this fall, possibly alongside Zach Wahls (whom you may remember from a popular YouTube clip that featured his speech to the Iowa Congress defending gay marriage).
As for Cor, Andre tells us he was totally game to speak up too:
"We had approached him because we had read a few things, a few tweets of his, statements he's made," Andre told us. "So, we reached out to the publicist and asked if this is something he'd be interested in, and then she was like right away, 'Yeah he'd be really into this.' "
Cory filmed his PSA right before he and the Glee crew hit the road for their tour, but expect to see some of his costars showing their pride soon as we're told that a few are in talks to follow in Cory's footsteps.
Other recent recruits?
"Probably the most recent one was a guy from HBO's Game of Thrones," Andre reveals. "We are organizing a shoot with him because he and three or four of his other male castmates would like to do a video for us, which would be pretty cool."
Definitely cool. The campaign then hopes to nab a few musicians and athletes before possibly expanding to include girls talking to girls.
Kudos to you all! Keep up the good work. As for the ladies, we're positive Dianna Agron and her Glee gal pals will be down to show their pride (again).