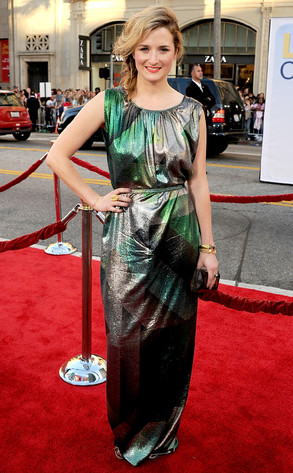 Jason Merritt/Getty Images
UPDATE:
RM Says: "The devil's daughter wears schmatta."
________
Calling all couture cops—it's YOU Write 'Em Up time!
The Perp: Actress (and daughter of Meryl Streep) Grace Gummer, at the Larry Crowne premiere in Los Angeles
If this up-and-coming talent is anything like her mom, she's going to have a great career. But this extralong, wrinkled silver lamé gown with green print is doing Grace no favors, and it looks like she could definitely use some more supportive lingerie, too. Chalk it up to a rookie mistake!
What do you think of Grace's getup? Write a clever caption about it below and we'll post our favorite here and on our Facebook page.