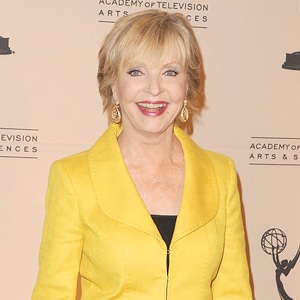 Jason Merritt/Getty Images
Somehow we can't imagine Carol Brady having this problem.
Florence Henderson, the actress best known for playing the straight-laced mom to three very lovely girls in the classic TV series The Brady Bunch, reveals in her forthcoming memoir that she got a very bad case of the crabs after a one-night stand with former New York City mayor John Lindsay.
Ewwww!
Henderson, now 77, dropped the bombshell in an interview with Reuters in which she admitted to cheating on her husband in the 1960s by jumping into the sack with the late politician, who was also married at the time.
The TV icon said that Lindsay seduced her over drinks at the Beverly Hills Hotel.
"I was lonely. I knew it wasn't the right thing to do. So, what did I do? I did it," she admits in her new book, Life Is Not a Stage, due out in September.
After the encounter, Henderson woke up the next morning at home to find "little black things" crawling over her body. Luckily, a quick visit to the doctor took care of the parasite, better known as pubic lice or crabs.
Lindsay, who was mayor from 1966 to 1973 and died in 2000, subsequently sent her a letter of apology and flowers. But like the Brady Bunch's every episode, the romp offered Florence a very important life lesson.
"Guess I learned the hard way that crabs do not discriminate but cross over all socioeconomic strata," she adds in the memoir. "He must have had quite the active life. What a way to put the kibosh on a relationship."