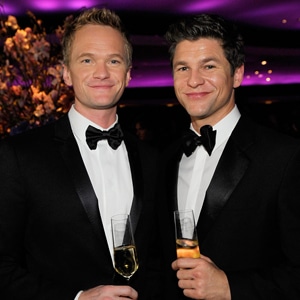 Kevork Djansezian/Getty Images
It looks like Neil Patrick Harris is heading to the altar. 
Following the New York state senate's passage of the Marriage Equality Bill Friday night, Harris, along with a gaggle of other celebs, took to Twitter to celebrate the news and announce engagements.
"It PASSED," Harris wrote. "Marriage equality in NY!! Yes!! Progress!! Thank you everyone who worked so hard on this!! A historic night!"
Harris's boyfriend (and co-parent to their twins), David Burtka, also had marriage on his mind following the news. After the bill passed a follower told him he should "propose to his boyfriend." Burtka, responded, saying, "I've already [proposed], he said yes! Thank god!"
The Emmy-winning How I Met Your Mother star confirmed the happy news this morning: "David and I did propose to each other, but over five years ago! We've been wearing engagement rings for ages, waiting for an available date." 
And they weren't the only celebs to get in on the engagement action. Andy Cohen, Lance Bass, Alec Baldwin and Steve Martin all tweeted proposals, although they were presumably joking.
"Wanna get married @bravoandy ?" Bass tweeted to Cohen.
Cohen, who was also ecstatic about the bill passing, responded, "Now this is getting REALLY good. Maybe Giggy as ringbearer," the Real Housewives host responded about Beverly Hills franchise star Lisa Vanderpump's Pomeranian pup.
The former 'N Sync star accepted: "As long as Britney can be our flower girl, done! ; )"
And then it was Baldwin and Martin's turn.
"Alec! Now we can get married!" Martin tweeted. "*sing* I'm gettin' married in the mornin'! Wait. I am already married. NEW LAW REQUIRED." 
Baldwin had one condition to the faux proposal, though.
"Ok. But if you play that effing banjo after eleven o'clock....," he replied. "Congrats, again, to Cynthia Nixon for all of her hard work on behalf of marriage equality."
So what did other celebs have to say about the monumental event? 
Ricky Martin: Time to celebrate!!! Marriage Equality for NYers! Its about… love!
Kathy Griffin: tonight we're all New Yorkers! Straight & gay alike, let's all celebrate marriage #equality. The right side of history!
Lady Gaga: The revolution is ours to fight for love, justice+equality. Rejoice NY, and propose. We did it!!!
 Ellen DeGeneres: I'm thrilled about the news from NY. Marriage equality! Every day we get a little closer. What an amazing feeling.
30 Rock's Cheyenne Jackson: Holy crap, I'm gonna need a flower girl, stat!
Joy Behar: Could not be more thrilled that gay marriage finally passed in NY. Congrats!!! #NY4M #MarriageEquality
Darren Criss:  As if I didn't already have enough to celebrate and enjoy today. A big hug for New York from my lone hotel room in London. #MarriageEquality
Lindsay Lohan: #GayMarriageLegalNY; Nice work to Gov. Andrew Cuomo
Katy Perry: NEW YORK! I ♥ U! You're OFFICIALLY the coolest place on the planet! #PRIDE #EQUALITYFORALL! #CELEBRATE!
Mandy Moore: MARRIAGE EQUALITY in NEW YORK! What a win and what a way to start the weekend!! California: time to follow suit.
Congratulations to all. And Neil, we'll be checking our mailbox for your Save the Date notice.