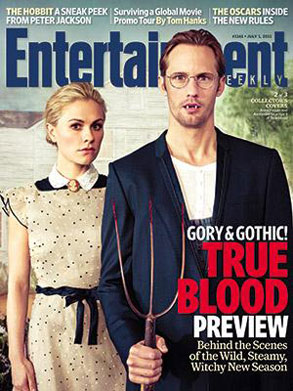 EW.com
Who knew overalls could look so damn good?
As if we weren't already dying for True Blood's debut this Sunday, Entertainment Weekly is now teasing us with a sexy new spread featuring our fave vamps, fang bangers and token ab-tastic werewolf.
Oh, and plenty of dish about the upcoming season, ya know, like: Eric loses his memory? Fairyland ain't so nice to Sookie? And, say it ain't so, Jason actually matures?
But there's one question in par-tick that gets our blood boiling: Are Anna Paquin's Sookie and Alexander Skarsgård's Eric going to have the freakin' mind-blowing shower sex that made the fourth book such a fan favorite?