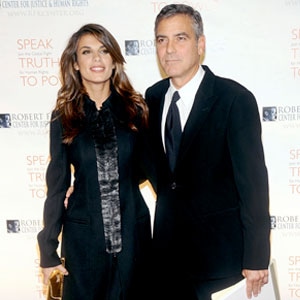 Jamie McCarthy/WireImage.com
The same impeccable sources who insisted to us weeks ago that George Clooney was "over" his relationship Italian beauty Elisabetta Canalis weren't at all surprised that the 50-year-old movie hunk just called in quits with the young model.
"He's been trying to figure out how to get out of this for a while," said a close Clooney bud, regarding the slow goodbye of Elisabetta. "And let's face it, this always happens..."
"Right before Como! Like clockwork."
The Clooney pal is referring to the extended summers fun-in-the-sun George likes to spend on his Lake Como estate in Italy, with his many friends by his side.
"Remember that ding-dong Sarah Larson George was dating?" asked our super-knowledgeable Clooney insider. "Same thing happened. Right before Como, they broke up. I'm telling you, it's the same thing here."
Other Clooney friends tell us they found Canalis often to be "unsure of herself" while in the company of Clooney and his many famous companions, who include Julia Roberts and Brad Pitt, among many others.
"She was always shy," said a famous executive pal of Clooney's. "And you know what? She didn't speak great English. To tell you the truth, I don't think George's Italian is that great, either!"
As far as who's next in line for George's revolving girlfriend position, we're told to keep on an eye on ex Lisa Snowdon, as well as Renée Zellweger, who broke up with Bradley Cooper not long ago.
"I wouldn't rule either one out," said our inveterate Clooney love source. "Also, he just finished filming that movie [Gravity] with Sandra Bullock. I'm surprised people haven't already said they're an item, but I wouldn't count on it."
The most important thing that whoever takes Elisabetta's place needs to keep in mind? Marriage ain't gonna happen.
"He will never marry again," said our Clooney crony. "Ever."
Hear that, girls? The one-time Clooney took the plunge (to Talia Balsam in 1989) and will not be doing it again insist some members of George's select entourage.
Don't say you weren't warned, babes!
(Also, keep in mind you might want to keep your summer schedules very full.)