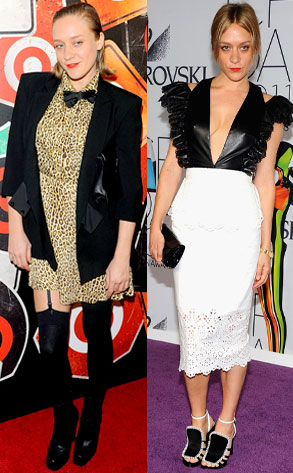 Andrew H. Walker/Getty Images, Jamie McCarthy/WireImage.com
The last time she was featured on Fashion Police, Chloe Sevigny took home the worst dressed door prize for her cheetah print mini with garters and a bowtie.
But one look at the Big Love star in an Opening Ceremony dress at the CFDA Awards and Joan Rivers was declaring it a rare fashion flip-flop. "Lately, she's been looking great," she exclaimed on Friday night's show, "so I want to know what the hell happened to Chloë Sevigny?!"
It's a dress of her own design, gushed cohost George Kotsiopoulos. And Kelly Osbourne chimed in, "She is not a trend follower, she is a trend setter."
But Joan says there's more to it: "Look at the posture, a lot is the way a woman walks and she learned that from me. I said to her, 'The higher you hold your head, the less likely you are to step on your tits,' and she listened to me."
Fashionistas, take note!