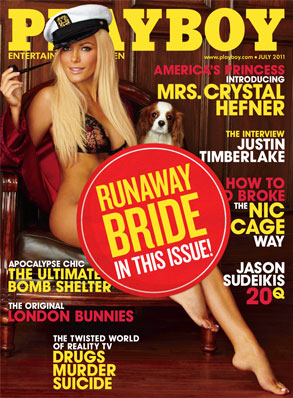 Playboy
So…maybe not so amicable after all?
Actually, we're sure Hugh Hefner was just having a little fun at his own expense (and, OK, at jilter du jour Crystal Harris' as well) when he decided to amend her current and now rather ironically themed cover shoot for the July issue of Playboy.
What with this being the week the duo was supposed to marry, it made sense when, several months ago, Harris got all dressed up as "Mrs. Crystal Hefner" and got credited as such on the cover of this month's issue.
But hey, one sticky situation deserves another, and Hef knows a PR opportunity when he sees it. So it's only right that he took matters into his own hands and took the liberty of updating Harris' spread…