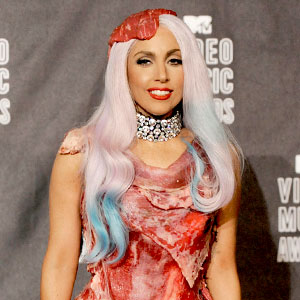 AP Photo/Chris Pizzello
Where's the beef, you ask?
If you're referring to Lady Gaga's controversial meat dress that she wore at the 2010 MTV Music Awards, well, look no further than Cleveland.
Or, more specifically, the Rock and Roll Hall of Fame, which has just put the outrageous outfit on display as part of the museum's "Women Who Rock: Vision, Passion, Power" exhibit.
Of course, it's been quite a few months since Gaga donned the grill-ready gown. But, fear not.
"The dress was kept in a meat locker until the treatment was ready to begin," reads a statement from the Hall of Fame. "It was then placed in a vat of chemicals and, while still pliable, was put on a body form and allowed to dry."
It was also given a bit of paint job to make it look fresh.
Yum.