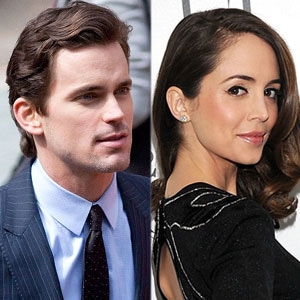 Ben Hider/Getty Images; Andrew H. Walker/Getty Images
Eliza Dushku is one very—and we mean very!—lucky lady.
Not only does she get to act alongside White Collar hottie Matt Bomer during her upcoming stint on the series' third season, Dushku gets herself some seriously steamy screen time with the show's supersexy star...
"There's an interrogation scene and at the end of it, Eliza's character gives Neal a pretty nice embraced kiss in front of Peter [Tim DeKay] in the interrogation room," Bomer, who plays con artist Neal Caffrey, dished last night at a private White Collar screening and Q&A at the Academy of Television Arts and Sciences in L.A. (hosted by yours truly, Marc Malkin).
"[It's this] incredibly tense scene between Peter and Neal, and then he walks out in the hallway and he makes out!" joked DeKay.
"Neal is just a man ho who's scared of real intimacy and wants to live on the edge," Bomer said of his character's love life. "One of the things about the con artist lifestyle is that all the romance is sort of sloppy and fast and loose. The intimacy is sort of easy and fast because ultimately the stakes are really high and you gotta get in and get laid while you can and get out."
But Bomer isn't the only White Collar star getting action on the show.
"I do just have to point out that Neal is not the only con man who gets laid this season," joked Willie Garson, who plays Bomer's con-man confidante Mozzie.
Hanky-panky aside, the cast dished that DeKay is set to take his first turn behind the show's cameras and direct an upcoming episode of the hit USA Network series in August.
"I've just always wanted to and it just presented itself with schedules and what have you," DeKay said. "I directed quite a bit of theater and filmed some shorts. I've had some experience."