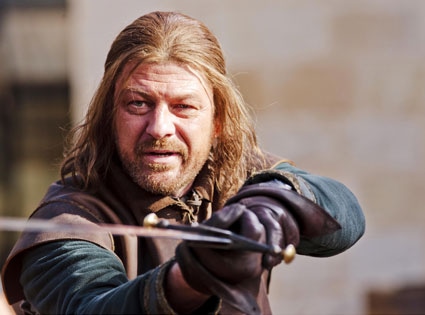 HBO/Nick Briggs
Turns out, Sean Bean's hero image is the real deal.
The Game of Thrones and Lord of the Rings tough guy reportedly came to the aid of his famous glamour model companion after a fellow pub reveler made some untoward comments on her topless posing past. While Bean's white knighthood was obviously admirable, it also proved rather dangerous, as a melee ensued and the actor was ultimately stabbed outside the London pub.
So what, exactly, happened? And just how is Bean doing now?
According to the Daily Mail, the incident kicked off when the 52-year-old Bean and 22-year-old Playboy hottie April Summers (real name Nadia Foster) went outside Camden's Hill Bar and Brasserie to smoke. A passerby spotted the duo (or at least one half of the duo) and began making lewd comments, leading Bean to confront the big talker.
All was seemingly well until the stranger returned later on, at which point a scuffle broke out. Bean's rep tells E News that the star was apparently punched in the face, causing a bruise over his eye, and stabbed in the arm with broken glass (not, as some initial reports claimed, with a knife). Despite his wounds, Bean refused any medical attention and opted not to go to a hospital.
Instead, the actor accepted a first aid kit from the bar staff, then ordered another drink.
Guess all those tough guy roles haven't been too much of a stretch, after all.