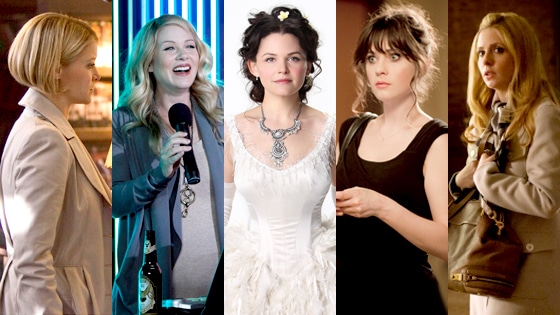 James Dittiger/FOX; Trae Patton/NBC; ABC/CRAIG SJODIN; Isabella Vosmikova/FOX ; Jojo Whilden/The CW
In just a few short months, the new fall shows will be premiering on the broadcast networks, but long before then, we TV fans start getting excited about certain shows that clearly have smart writers, sexy stars or the indefinable air of admirable success.
And now that you've seen all the video clips, read all the stories in our 2011 upfronts coverage, it's time to tell the world which one of the 2011 crop will absotively, posilutely be on your DVR this September, by voting up your fave new show in our latest Tater Tops ballot!
Ready? Set? Go!
Based on your fan nominations, these are the most popular contenders: 2 Broke Girls (CBS), Alcatraz (Fox), Apartment 23 (ABC), Good Christian Belles (ABC), Hart of Dixie (CW), Once Upon a Time (ABC), The New Girl (Fox), Pan Am (ABC), Person of Interest (CBS), Prime Suspect (NBC), The Ringer (CW), Scandal (ABC), The Secret Circle (CW), Smash (NBC), Terra Nova (Fox), The X Factor (Fox) and Up All Night (ABC).
Which one has caught your fancy? Tater Tops ballots are open until the end of June.