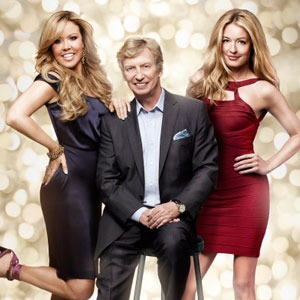 2011 Fox Broadcasting Co.
After auditioning hundreds of dancers from Salt Lake City and Atlanta to L.A. and NYC, So You Think You Can Dance announced the Top 20 who will compete this season for the title of America's Favorite Dancer.
First off, yay for the return of the 10-guy and 10-girl Top 20! (Though the all-stars will be back once the field has been whittled down to 10.) Yay for the return of Mary Murphy! And, yay for the fact that it's been a year since SYTYCD was last on!
Don't get us wrong, we could watch it every day, but it is more special when it's relegated to the summer months.
But some new aspects were added to the show this season, starting with tonight's combined reveal-and-perform two-hour extravaganza!
Right off the bat, bing-bang-boom, Nigel Lythgoe & Co. had good news for Ricky Jaime, Miranda Maleski and Georgia peach Melanie Moore, none of whom are surprising finalists.
What was surprising, however, was the decision to not keep sisters Sasha and Natalia Mallory waiting till the final moments before splitting them up. Because, obviously, one of them was going to make it and the other wasn't.
"She deserves it, she definitely deserves it, she's such a hard worker," Natalia said of Sasha, who did make it.

Then, in a departure from the usual proceedings, Ricky, Miranda, Melanie and Sasha performed a Stacey Tookey contemporary routine. (The dances and subsequent critiques were taped before a live audience.) And, yes, Natalia was in the audience cheering her sister on.
Next up was a quartet of hip-hop experts, always a good time, doing their thing with a Dave Scott routine.
Being the only ballroom dancer in the mix this year, Iveta Lukosiute (a three-time also-ran in her last eligible year of tryouts) got to  sauce it up with all-star Pasha Kovalev tonight.
The routines certainly took the edge off the usual emotional turmoil that tends to put a damper on the Top 20 selection (because there was much less time to focus on the tearful aftermath of rejection), but it did kinda sting when Jeremiah (the one whose stomp thoroughly offended Mia Michaels last year) was the last guy cut.
Ryan Ramirez, who was cut at the last second last year, happily had better luck this time around.
The joyous victory numbers also included a three-girl, one-guy Sonya Tayeh number, a two-man tap-and-Broadway routine (did we even know there was a tapper this season?), a five-person Travis Wall routine, all 10 male finalists dancing a polyglot routine by style-mixing master Christopher Scott, a fierce Sonya routine for the 10 girls, and a Top 20 Broadway routine choreographed by Tyce Diorio.
And here's the complete run-down of season eight's Top 20:
Alexander Fost, 21, Pasadena, Calif.: Contemporary
Ashley Rich, 22, Emeryville, Calif.: Contemporary
Caitlynn Lawson, 18, Moses Lake, Wash.: Contemporary
Christopher Koehl, 21, Garland, Texas: Hip-hop
Clarice Ordaz, 19, Whittier, Calif.: Jazz
Iveta Lukosiute, 30, New York City: Ballroom,
Jess Leprotto, 18, Little Falls, N.J.: Musical theater
Jordan Casanova, 18, Chino Hills, Calif.: Jazz
Marko Germar, Jazz, 22, Canoga Park, Calif.: Jazz
Melanie Moore, 19, New York, N.Y.: Contemporary
Miranda Maleski, 19, North Hollywood, Calif.: Contemporary
Missy Morelli, 19, Studio City, Calif.: Jazz
Mitchell Kelly, 20, Atlanta: Contemporary,
Nick Young, 19, Franklin, Wisc.: Tap
Ricky Jaime, 18, Tampa, Fla.: Contemporary,
Robert Taylor Jr., 30, Brooklyn, N.Y.: Hip-hop
Ryan Ramirez, 19, Morgan Hill, Calif.: Contemporary
Sasha Mallory, 23, Bakersfield, Calif.: Contemporary
Tadd Gadduang, 25, West Valley, Utah: Street
Wadi Jones, 24, Ossining, N.Y.: Breaking
For the first time in the show's history, viewers will be able to vote for the contestants online, in addition to old-fashioned phone and text messaging, making it even easier to go click-crazy for your favorites.
The two-person performances (and, gulp, eliminations) kick off next week. Feels like summer, doesn't it?
How does this season's Top 20 stack up for you?! Share those emotions in the comments section!
(Originally published June 9, 2011, at 6:50 p.m. PT)