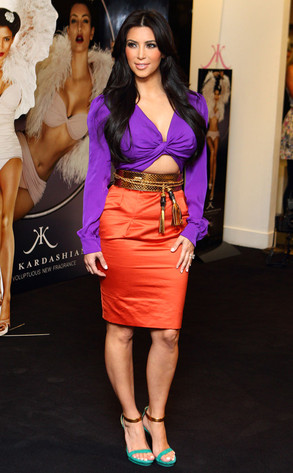 © Mike Marsland/WireImage
UPDATE:
Juju Says: "Lesson: not everything matches with a $2 million diamond ring."
________
Calling all couture cops—it's YOU Write 'Em Up time!

The Perp: Kim Kardashian, in Gucci at her perfume launch in London (a day after receiving Glamour's Entrepreneur of the Year Award)
Give Aladdin's Princess Jasmine a modern-day makeover and you've got Kim squeezed into this two-piece, orange and purple Gucci set with tasseled gold belt and turquoise sandals. All she's missing is a flying carpet!
What do you think of Kim's flashy spin on this enchanted style? Write a clever caption below and we'll post our favorite here and on our Facebook page.