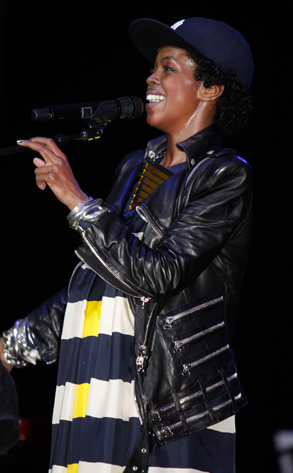 Monica Morgan/WireImage
UPDATE: Hold on, there! In a Twitter exchange with a Houston Chronicle reporter, Rohan Marley seems to be casting doubt on whether he is the father-to-be of Lauryn Hill's sixth child. In the tweets (now removed but viewable here), Marley is asked:
"So we are clear. 1.) You're not married to your ex-wife or Lauryn, and 2.) She isn't preggo w/your child, but someone else's?"
Marley's response? "That is correct until I say out of my mouth to the contrary."
______
Lauryn Hill may be famous for "That Thing," but she's also getting pretty famous for something else.
The Grammy winner revealed during a performance in Detroit Saturday that she will be "taking time off to give birth" because she and boyfriend Rohan Marley are expecting their sixth child together.
Hill had pretty much called it herself a couple months ago, joking to another group of concertgoers in L.A., "I keep having these children. I don't know if I'm the most fertile woman in America."
Perhaps, but she may be getting some help from her baby daddy's side of the family...