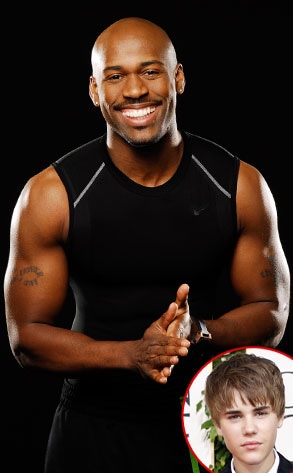 AP/Matt Sayles; Drexina Nelson/NBC
Jillian Michaels is sure to be missed as a trainer on The Biggest Loser, but man, her replacements aren't half-bad. First the hit NBC reality series hired tennis babe Anna Kournikova to join beloved veteran Bob Harper, and now the series has hired superfine Dolvett Quince, who has quite a few celeb clients on his roster—including Justin Bieber!
So, what kind of workouts can we expect from the totally ripped fitness expert?
Quince, who has also trained Janet Jackson, says of the new opportunity, "I couldn't be more excited about joining The Biggest Loser as their newest trainer. This amazing opportunity allows me to use my expertise to change lives one rep at a time, and encourage contestants—and viewers—to find strength beyond muscle."
Quince has an inspirational personal story: He grew up with three siblings in the foster-care system in Stamford, Conn., before being adopted by a Jamaican couple who wanted to keep the four kids together. (Awww...) Professionally, he's known for being the founder of an Atlanta workout studio called Body Sculptor and has been a "master trainer" in that city for a decade.
Quince accompanied the Biebs on his My World tour last year, and coordinated a workout that included chin-ups, bench presses and stretches.
Are you excited about the new TBL trainers? What's your current favorite workout? Hit the comments!