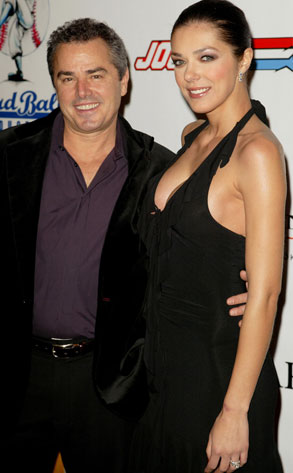 Jerod Harris/ZUMApress.com
Adrianne Curry and Christopher Knight are no longer a Brady bunch.
The former costars of My Fair Brady announced their decision to separate Sunday, on what would have been their fifth wedding anniversary.
So how did their relationship fall apart?
 "After starting a relationship with what seemed to be irreconcilable differences, the couple has reached a period where those differences are no longer appreciated," the couple's manager, Phil Viardo, told the website Hollyscoop. "The decision was mutually reached after it became clear to both that some perspective was needed in order to assess their unique union. Not unlike all marriages, work must be put in."
And there was more.
"Obvious to both Knight and Curry was that their marriage would require more effort then a garden-variety relationship," Viardo went on. "They are taking time to see if they want to continue to put in that extraordinary effort. The couple has mutually determined that they are at a place where moving forward will require a step back. They still love one another but need some distance to consider their future."
There was no immediate word of a divorce.
The news of the couple's split may not come as much of a surprise, however, considering Curry's interview on Howard Stern's radio show just a couple of weeks ago (she more than hinted at trouble in her marriage).
When asked if she was still in love with the 53-year-old Knight, Curry told Stern on May 12, "I might be a little out but he's trying to get back in…we've had a lot of distance lately."
And that wasn't all.
"My big joke now is, 'I'm Mrs. Knight the third and probably not the last," added Curry, 28. "You know, cause I always tell him, 'I understand, now, why they left you.' And I understand why we're together. Because it's very—it would be very hard for [other] people to put up with us...I frustrate him to the point where he's smashing his face into walls."
Curry has yet to comment on the split on her Twitter page, however.
Her last post came Saturday morning, in which she tweeted, "May 29th, 2006 I married Christopher Anton Knight. Enjoy your weekend! I certainly am!!!"
Curry, a former winner of America's Next Top Model, and ex-Brady Buncher Knight wed after meeting as housemates on The Surreal Life.