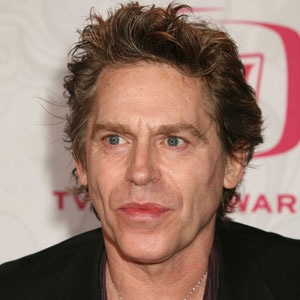 Byron Purvis/AdMedia/Sipa Press
It's been a tragic ending for Jeff Conaway.
While his family has made the ultimate heart-rending decision to take the star of Grease and Taxi off life support, his ex-girlfriend Vikki Lizzi went to court to make a last-ditch effort to see him before he passed.
"Vikki Lizzi's lawyers are still in court trying to get her back in there so she can say no to pulling the plug," an inside source told E! News late Thursday.
Lizzi and Conaway had filed dueling restraining orders after their latest breakup, but it was she who reportedly found him unconscious in his home on May 11. Nonetheless, Conaway's family has gone to court to block her from coming to the Encino, Calif., hospital, where the actor has been in a medically induced coma, due to what his manager said was an apparent overdose of prescription pills.
Dr. Drew Pinsky, who treated Conaway on Celebrity Rehab, said last week that the 60-year old actor didn't appear to intentially OD, and his condition was made more grave due to pneumonia and sepsis, a deadly blood infection.
Conaway's family had been keeping vigil at his side, and decided to remove him from life support on Thursday after doctors told them there was no hope for recovery. There have been no updates this morning.
Last year, Conaway spoke to E! News, sounding upbeat while rehabbing from hip surgery, but admitted he was still struggling with addiction.
"I'm not gonna be really happy until I'm drug-free. You can't imagine how badly I want this. I spent a good part of my life on substances, alcohol, pot, cocaine, and I've just had it. I don't want to live in a fantasy world," said Conaway, who copped to being under the influence of painkillers at the time of interview. He said at his worst, he was taking as many as 54 OxyContins a day.
"I didn't come this far to give up," he added. "God didn't bring me this far to drop me."
—Reporting by Jason Kennedy and Ken Baker