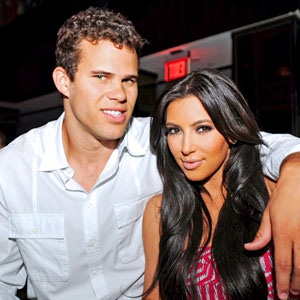 Seth Browarnik/startraksphoto.com
If Kim Kardashian's engagement ring cost $2 million, one would certainly expect that she and Kris Humphries will have a wedding to match.
"It's going to be royal wedding number two," sister Khloé told me earlier today while promoting the new season of Keeping Up With the Kardashians. "I could only imagine Kim having the hugest wedding."
But get this...
The Kardashian and Humphries families haven't really met yet. Sure, Khloé and Kourtney spent some time with their future brother-in-law's dad and sister, but that's it.
"They are all on a little vacay right now so when they come back," Kris Jenner said.
Khloé and Kourtney already know they'll both be the maids of honor. "I made both of them my maid of honor," Khloé said of her sisters. "You can't choose."
Oddly enough, no one had thought of Kourtney and Scott Disick's son Mason as ring bearer until I suggested the idea. "That would be the cutest thing," Kourtney said, adding with a laugh, "We need cookies. We'll need a path of cookies down the aisle so he could follow it."
And to think Khloé didn't embrace Humphries right away. She and Kim are shown fighting in the first episode of the new season (airing on June 12) because Khloe says she doesn't want to get emotionally attached to another if Kim's boyfriends until they prove they're serious.
But that was then. "Kris is adorable and funny," mama Kris said. "I think he really fits into the family."
And that includes being comfortable having reality show cameras following you. "He's used to performing," Kris said. "You know, playing basketball."