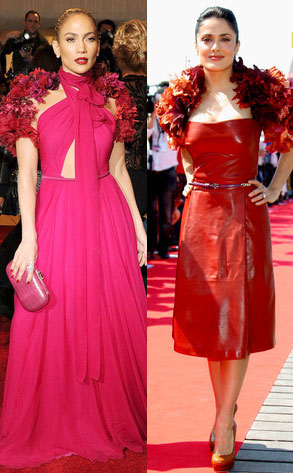 Larry Busacca/Getty Images; Mike Marsland/WireImage
Someone's been sprinkling a little extra Miracle-Gro on this floral shrug.
Jennifer Lopez was the first to plant this Gucci bolero on her shoulders at the 2011 Met Costume Institute Gala atop a sweeping key-hole gown.
Salma Hayek followed her lead a week later, wearing this fall foliage version to the Puss in Boots photocall in Cannes with a burnt orange leather dress.
(In Hayek's defense, she's not just being a red carpet copycat. The actress is also supporting hubby's company since he owns Gucci.)
So what do you think? Are you digging Jenny's high-drama interpretation or do you prefer Salma's autumn-inspired look? Weigh in below!