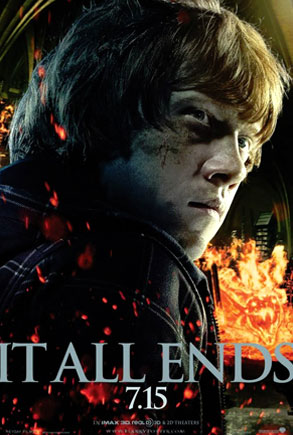 Warner Bros. Entertainment
Harry Potter's It All Ends world tour is still going strong.
We've already seen Harry (Daniel Radcliffe) and Hermione's (Emma Watson) posters, and now good ol' Ron Weasley (Rupert Grint) is getting in on the action. From the look of it though, Ron is dealing with a major headache.
That flaming dragon behind him isn't your typical brand of everyday fire. No, that's Fiendfyre, a Dark Magic blaze so powerful it can destroy a Horcrux. Is Ron facing it down alone? He seems a little resigned to the dangers that surround him. Has the rift between him and Harry left him completely demoralized? Or is he just annoyed by those embers that keep flying around?