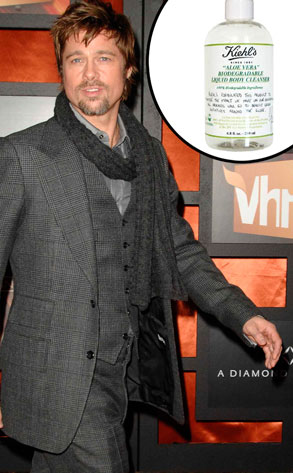 Scott Kirkland / INFphoto / Kiehl's
Brad Pitt is looking for a way into your shower.
The fair-faced movie star is collaborating with luxury hair- and skin-care company Kiehl's Since 1851 on an ecofriendly body wash to raise money for green causes.
But although Pitt's obviously camera-ready, he will not be appearing in ads for the product, nor will his name be on the bottle—although a reproduction of his handwriting will be, Women's Wear Daily reports.
One hundred percent of the proceeds from Kiehl's Aloe Vera Biodegradable Liquid Body Cleanser, washing up in stores in October for $16.95 a bottle, will go to the newly launched JPF Eco Systems, a nonprofit started by Pitt and Kiehl's to "minimize impact on the environment through thoughtful design."
And this is no "Run out and get yours while supplies last" flash in the pan.
The cleanser, packaged in recyclable plastic and consisting of all-natural ingredients such as aloe vera, coconut-derived cleansers and glycerin, is joining Kiehl's famed product line permanently and will be available online, at Kiehl's counters in department stores and in the company's freestanding boutiques.
The first beneficiary of the deal will be Pitt's own Make It Right organization, which he started last year to fund building rebuilding projects in New Orleans.
"Brad is not a face, he's a partner," Roberta Weiss, Kiehl's senior VP of global marketing, told WWD.com. "We shared a vision, to support this new way of thinking—being more eco-intelligent."
"I particularly like working with Brad," said architect William McDonough, coauthor of Cradle to Cradle: Remaking the Way We Make Things, which discusses sustainable product development and production. "He is a designer. He has a great eye and sense of perspective. He loves design and has a passion for it."
Kiehl's Aloe Vera Biodegradable Liquid Body Cleanser is the first mass-market product from a cosmetics company to be completely certified as environmentally sound by Cradle to Cradle standards.