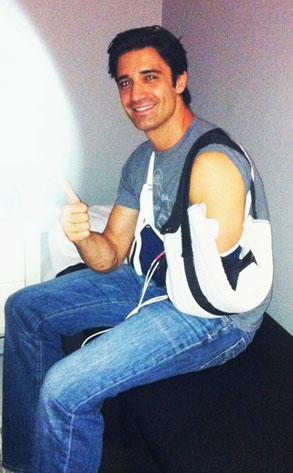 Twitter
Good thing Gilles Marini left the camera phone behind when he injured his groin on Dancing WIth the Stars.
But the hunky French actor tweeted two pictures today from his trip to a Beverly Hills urgent care clinic to get his busted arm checked out: one on the table while the doctors worked on him and another of the finished product.
"Not the best day ever!" he wrote. "But thanks to Doc Jacobsen @ Executive ER for fixing me up."
Marini told E! News that he popped a ligament in his elbow while ground fighting (hand-to-hand combat for sport, like MMA), but is OK now.
"Just a bad last 7 days.I hope it's over now:)," he wrote in an email.
Happy healing, Gilles!