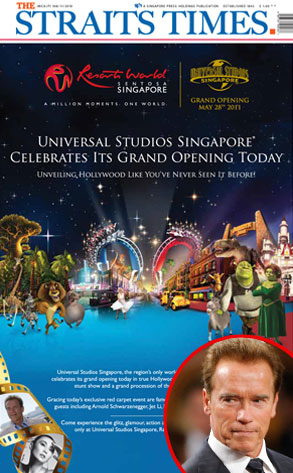 Brian Snyder-Pool/Getty Images
UPDATE: A rep for Schwarzenegger tells E! News, "The governor called Universal Studios Tuesday to say he did not want to travel to Asia because he is focused on personal matters."
A studio insider confirms the rep's statement.
_______________________________
Universal Studios Theme Park in Singapore is giving Arnold Schwarzenegger a big ol' hasta la vista baby.
The scandal-plagued actor was disinvited from a scheduled appearance at the amusement park's opening festivities this weekend, a source tells E! News.
Operators at the park didn't think the former governor of California, who just revealed he fathered a 13-year-old love child with his housekeeper/mistress, Mildred Patricia Baena, was the best name they could use to promote their family-friendly venue.
So who's replacing the Terminator? And no, it's not Ashton Kutcher.