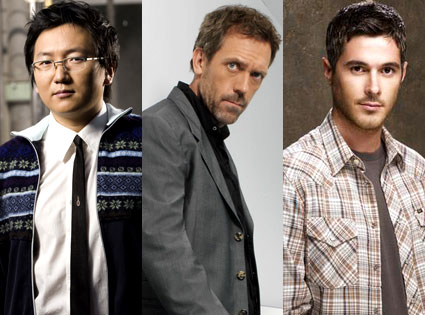 NBC, FOX, ABC
Cath: Hmmm...No House scoops lately? Come on, Kristin! We are starving for info!
Here is a warm nugget to sink your teeth into: Much to the chagrin of House/Wilson fans everywhere, it appears as though the show's cornerstone coupling is breaking up when House returns Sept. 16. Said Hugh Laurie: "Wilson comes to a bigger, broader realization that House is possibly a destructive force in his life; House isn't good for him, and as a result of that realization, Wilson decides to up sticks and leave." Booo! (Still, I'm highly doubtful this breakup is permanent. And by highly doubtful I mean, I have it on good authority.)
Anthony in Augusta, Maine.: Is Heroes going to go back to its glory of the first season?
Didn't you see on the Olympics commercials that say Heroes is "100 percent back" according to E! Online? Well, normally I don't believe a word those idiots say, but in this case, you totally can and should! The premiere is awesome, and the new season looks great. We're even going to see some of the oldies we love back together again. Plus, did you hear the Greatest American Hero is coming on board?! (Check the spoiler section.)
Rallygirl in Omaha, Neb.: Kristin, you have to get on the Grey's set to see the McMansion! Thanks for the news they are building it. Any more scoop?
You're welcome. Just to clarify, though, I'm hearing that the new house set for Meredith and Derek has not been built yet, but it is something they are planning for this season. And you know if there's any way I can get to that house to bring them a welcome basket of muffins (and maybe some superglue for you Mer-Der fans?), I will so be there! Regardless, Mer-Der is looking tight in the new season, so I see no reason to worry...yet.
Marcia in Tallahassee, Fla.: Is it true they aren't showing the premiere of 90210 to anyone in the press? What does this mean?
The natural assumption would normally be that the show stinks something rotten. But in this case, given the word-of-mouth buzz this show already has, I'm sort of inclined to believe their statement: "The CW and our studio partner CBS Paramount Network Television have made the strategic marketing decision not to screen 90210 for any media in advance of its premiere. We're not hiding anything...simply keeping a lid on 90210 until 9.02, riding the curiosity and anticipation into premiere night, and letting all our constituents see it at the same time."
Mary Kate: I just read that season six will be the final season for One Tree Hill. True or false?
Neither: The fate of OTH remains be determined. I checked with a source on the show, and he told me no decisions come down on the network side until May 2009, so hang in there. The new seasons starts Monday, Sept. 1, and there's a little more info below.
Jill in Minneapolis: When will we see your list of fall shows and start dates? Or did I miss that? Love reading you every day!
Thanks, mama! My fall TV preview starts rolling out on Thursday. Over the next three weeks, we'll have premiere dates, show previews, interviews with the season's most loveable new stars, my suggestions and your watch/pass picks. You know what this means, right? The return of good TV is getting so close I might tinkle.
Pamela in Plymouth, Mich.: Thanks so much for your Criminal Minds scoop. Got anything else?
Jane Lynch will be back for at least two eps as Dr. Spencer Reid's mother.
Anna in St. Louis: Psych!
A little bad news: Ernie Hudson won't be back as Gus' dad for the Christmas episode-he booked a TV movie and wasn't available during Psych's shooting dates, so Keith David (not to be confused with David Keith) will be filling in as Mr. Guster. Also, for you Timothy Omundson fans out there, Psych boss Steve Franks told me: "Yes, we're working toward the resolution of Lassiter's marriage so we can get him out on the open market." Think of the comedic possibilities, people!
Heather in Bloomington, Ill. We've gotten some great Heroes scoop lately, but we haven't heard a word on David Anders' return. So can you throw us Anders fan a bone and give us something to chew on?
Sark is back! According to sources, your boy will be back in episode four. Yes, someone will dig up Adam Monroe, and yes, he will be pissed. (You'd be cranky too if you'd been buried alive and hadn't been trained in coffin cracking like Ms. Beatrix Kiddo.) Also, James Kyson Lee (Ando) revealed: "The show really goes back to some of the fundamental relationships from season one that everyone really cared about and got excited about." In addition to the shocking and dramatic scene between Ando and Hiro in the first hour of the show, I'm hearing that we'll get back to their lighter side as well: Ando, Hiro and the Haitian have at least one scene together that should send you into giggle fits.
Francis: Wait a minute! In your Heroes post you mentioned that the Greatest American Hero, William Katt, is going to be on the new season. Is he playing a hero or a villain?
Believe it or not (sing it with me now!) he's, um, not walking on air. He'll play a villain of the worst kind: A...I hope you're sitting down for this..reporter. Actually, his character's name is "Reporter," and from what I hear, he has no special powers to speak of, other than his awesomely spherical 'do. In the second hour of the season premiere, we'll see Katt's character harassing Ali Larter's new character, Tracy Strauss, asking her about photos he found of her on lasvegasniki.com (back when Ali was Niki and Niki was a stripper). Tracy denies any connection, and my sense is, she honestly doesn't know of any.
Andrea in Portland, Ore.: You went to The Office set? What did you see?
I was there for the third half-hour of the year. (The premiere's an hour-long installment airing Sept. 25 at 9 p.m., so this one will air the second week.) It's an ep called "Business Ethics." Basically, when Amy Ryan's character, Holly, puts together a meeting on, well, business ethics, she soon realizes the Scranton branch of Dunder Mifflin hasn't exactly been operating along these lines. (Ya think?) More to come later...
Allison in Manchester, N.H.: OK, I admit it. I love Lindsay Lohan. Can you tell me anything about her gig on Ugly Betty?
Lindsay Lohan appears in the season premiere and then in episodes five and six, which they're just now beginning to shoot. According to Ms. America Ferrera herself, "Lindsay gets down and dirty, and there's food involved when she gets down and dirty..." Added Mark Indelicato, "There were milkshakes thrown. I had pizza on me. It was pretty gnarly. Lindsay was a good food fighter. She and America were really going at it-throwing rolls at each other-it was so funny." As for another one of our faves, expectant mother Rebecca Romijn, America said, "She's in a lot of the first episodes-you'll see her, and you'll hopefully not see her growing."
Judy in Renton, Va.: Ugly Betty, baby!
According to Ana Ortiz, "I've shot a lot about my whole relationship with the Coach (Eddie Cibrian), and we've gotten Betty a new apartment." Mmm...wonder if the new digs come with a new man?
Elena in San Marcos, Texas: A wedding on HIMYM? Seriously? My world is rocked.
Seriously. But keep in mind, the big day probably won't air until November sweeps or thereabouts, and there's lots to cover on the show between now and then. For instance, Josh Radnor said, "I've only gotten the second script, and there's no mention of a wedding in that one. Episode two is about the search for the greatest hamburger in New York, although it's about as romantic as a script about a hamburger can be. We're, like, in love with a hamburger." Don't let the Hamburglar hear of this new fetish, Josh, or he'll be coming for a piece of you!
Dimitrious Kambouris/WireImage.com
Tessa in Haleiwa, Hawaii: Kristin, you've been slacking on your coverage of the best family around, the Walkers! What is going on in the new season of Brothers and Sisters?
It's looking good. I'm hearing that Rebecca and Justin's blossoming romance (you heard me right; it is blossoming, my friends) will be outed to the whole family right quick in the upcoming season. (I'm hearing Justin spills the beans to the fam in the first episode back, on Sept. 28.) Also, the reveal of Ryan Walker will cause a serious rift between Kitty and Sarah.
Anna in Helsinki, Finland: Got any scoop on Prison Break? Labor Day seems so far away.
When I talked to Prison Break producer Zack Estrin, he told me, "We do learn a little bit this season why Michael Scofield is so smart. This is not sci-fi, but there is something that is unique about his childhood that leads to why he has the ability to do some of things he can do." OK, I'm convinced he was part of Project Christmas from Alias, but since that's not right-any theories? Maybe he just really loved puzzles? Post in the comments.
Chris in Moline, Ill.: Can you tell me if they will ever get around to catching the "Grave Digger" from season two on Bones?
Yes. (And the Grave Digger ep is one of my fave Bones episodes ever, by the way.) According to Bones boss Hart Hanson, "We are going to do the Grave Digger this year. He is our recurring fiend." Meaning, it's not just going to be a one-off: "I do think we'd dedicate a few episodes to catching him." I nominate Scott Glenn for the part, because he is awesome and can do villainy as easily as some people breathe.
Ally in Seattle: Bones!
According to Emily Deschanel you can expect the following from the first few episodes of season four: "We did a dogfighting episode-that was really sad. And we have an episode where the victim is a transgender person, and at first we don't know from the bones if it's a man or a woman, and we have to figure that out. That was a really interesting, wonderful story."
Meredith in Smithfield, Ala.: Any word on Hank and Karen for the new season of Californication?
My set spies told me they were recently filming a flashback sequence set at Kurt Cobain's funeral, back when Hank and Karen were still lovebirds.
Thomas in Rhode Island: Hey, Kristin! What's the deal with the new guy on House? I am particularly intrigued by the new private investigator played by Michael Weston.
So is Hugh. He said of Michael's character: "House is so needy, so desperate, so curious, so unable to leave well [enough] alone that he actually takes the, frankly, unusual step of hiring a private investigator to see how Wilson is faring on his own. Who he's seeing, who he's with, is he happy? Is he not happy? It's an obsessive and frankly narcotic act, but it's a step he takes."
Laura in Calif.: Have you gotten any more Chuck scoop?
As promised by Josh Schwartz at Comic-Con, we're going to meet the Awesomes this season. Specifically, they're set to arrive for a little wedding-related meddling in episode nine. (And as a consequence we'll learn Capt. Awesome's real last name!) I'm also hearing that Father Awesome volunteers to walk Ellie down the aisle since her own dad is not around, but she freaks out at that prospect. I bet that Chuck ends up walking her down the aisle. Awww...
Kayla in Irvine, Calif.: Loved your Greek info last week! Can we get more please?
Cappie is going to be meeting other people in attempts to get over Casey. Rusty drags Cappie along to such a speed-dating event, and one of them is pretty successful. Who's the playah? Post your guesses in the comments.
Melissa in Davisburg, Mich.: Any chance you can give us some scoop on one of my favorite shows, CSI: Miami? Like, are we hip-hugger fans gonna see anything happen between Eric and Calleigh?
According to Adam Rodriguez himself, "The tension is building, and there's only so long we can probably wait to pounce on each other." And Emily Procter added, "In the seventh season you get to sort of watch Calleigh sort through the parts of her life she's unsure about: Here's Delko, who's a great choice for her-you know they have a lot in common. He's very loyal to her; she's very loyal to him. They've been through a lot together, and he's a kind person. And then she's got Jake, on the side, who's kind of the bad boy, and you see her being drawn to that."
Hillary in Des Moines, Iowa: Any scoop on OTH?
I hear one of the main characters gets brutally attacked in the new season. Guesses?
—Additional reporting by Jennifer Godwin and Natalie Abrams