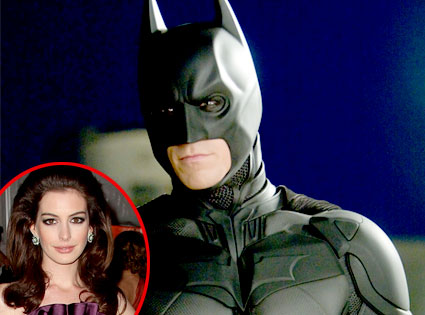 Warner Bros. Entertainment; Stephen Lovekin/Getty Images
Batman is ready for his closeup again.
Shooting is now underway on Warner Bros. and Legendary Pictures' The Dark Knight Rises, the third and presumably final chapter in director Christopher Nolan's epic trilogy on the Caped Crusader.
Christian Bale once again reprises his role as Bruce Wayne and his gruff-voiced alterego.
Joining him will be an all-star cast including newcomers Anne Hathaway as Selina Kyle, better known by her meow de plume Catwoman, Tom Hardy as the villainous Bane, Joseph Gordon-Levitt as Gotham City cop John Blake and Marion Cotillard as Miranda Tate, a Wayne Enterprises boardmember who helps Bruce sort out his business and philanthropic affairs—and just maybe his love life (the latter three, of course, co-starred in Nolan's mega-hit Inception last summer).
Also returning are key veteran supporting cast members Michael Caine as Alfred the Butler, Morgan Freeman as Lucius Fox and Gary Oldman as Commissioner Gordon.
The closely guarded script was written by Nolan and his brother, Jonathan Nolan, from a story by the filmmaker and David Goyer.
Spanning three continents, principal photography will take place in India, England and Scotland as well as the U.S., including locations in Pittsburgh, New York and Los Angeles.
All in a day's work for Nolan who seeks to deliver a satisfying closer after upping the ante both storywise and at the box office with 2008's smash sequel The Dark Knight.
Speaking of bigger and better, the helmer plans to utilize Imax cameras even more so on The Dark Knight Rises than than he did the previous installment. And unlike every other comic book flick these days, he's also foregoing trendy 3-D, which will undoubtedly please critics of the format, including Roger Ebert.
The Dark Knight Rises hits theaters on July 20, 2012.