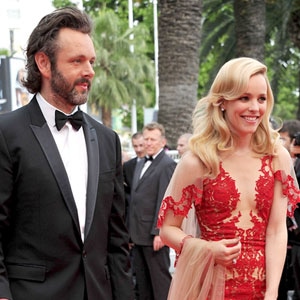 Pascal Le Segretain/Getty Images
It's about time.
While Michael Sheen and Rachel McAdams were first linked together seven months ago, it wasn't until the last week or so that they finally came around to confirming they're a couple...
They first met while fillming Woody Allen's latest, Midnight in Paris. "I will be forever grateful that it was where I met Rachel," Sheen told us at last night's L.A. premiere of the movie.
However, it was no on-set hookup. "Nothing happened while we were filming," Sheen told reporters. "It was a lot later on after that."
Sheen and McAdams were first spotted together post-shoot in Toronto in October. The lovebirds made their first red carpet debut as a couple walking arm-in-arm at last week's Cannes Film Festival premiere of Midnight in Paris.
As for the recent rumor the two were engaged, Sheen refuses to let the celeb tabloids get to him. "I don't really read magazines and all that kind of stuff, so I don't really know about it," he said.
And if they were into each other during filming, costar Mimi Kennedy says they were plenty good at hiding it. "We would talk about men and marriage and children and all kinds of things like that," Kennedy said about her friendship with McAdams. "I had no that she and Michael were interested in each other."