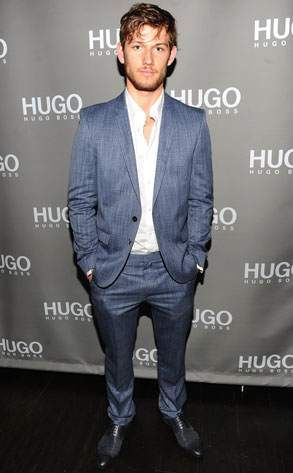 Jamie McCarthy/Getty Images
Forget what you've heard or read. British import and Dianna Agron ex Alex Pettyfer is just a boring family guy, according to...himself.
And he doesn't have "thank you" inked above his nether regions, as has been recently reported.
"You know everyone thinks it says 'Thank you,'" he told me last night in NYC.
So what does the treasure trail tattoo actually say?
"It says my name, 'Alex.' It's boring," he laughed while taking in the Hugo on Greene Street party at the Hugo Boss store. "He [the writer of the story] said that, not me."
Since we all know he's not a fan of L.A. (he called it a "s--thole"), I asked how New York compares.
"I love New York," he quickly replied, "I love L.A., too. I love both places."
Come again? Because you sure didn't sound like you were a fan of Hollywood when you called it "socially disgusting."
"I don't think I was so much misquoted but misunderstood," he explained.
"The most misunderstood boy in America," his publicist helpfully piped in.
Either that, or perhaps the most reformed?
Figuring there had to be some shocking, off-color quotes left in him, I asked Alex what he would spend his final days doing if the world really ended on May 21.
"I would visit my family and spend the rest of my days with my loved ones," he offered.
So maybe he's boring after all. Or maybe not. After all, he's playing a stripper in his latest movie, which is based on the life of one Channing Tatum.
"I'm a little nervous," he confessed.
He really shouldn't be—while his reputation may be bad, he's pretty easy on the eyes. We're betting people will pony up money to see him take it off. And at least he'll finally be able to prove to the world that he doesn't have the infamous tattoo when he strips down on the big screen.