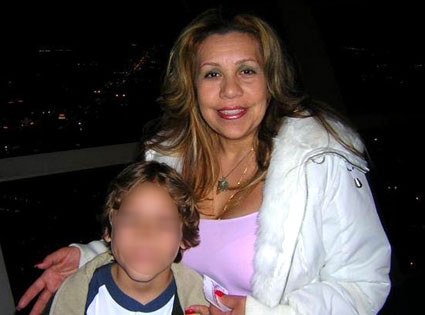 MySpace
We knew what happened. And now we know with whom. But what about the when?
Arnold Schwarzenegger and Maria Shriver's marriage has, from the outside, seemingly unraveled at lightning speed this week, with news of a split quickly followed by an admission of an affair, an illegitimate child and, finally, the identification of his mistress.
But from the inside, the marriage has long been hit by setbacks. Here's a timeline of the breakdown:
1991: As she reportedly retired from the couple's employ after 20 years in January of this year, it was sometime in early 1991 that Mildred Patricia Baena was hired to work as a housekeeper and assistant at Arnold and Maria's Pacific Palisades estate.
Nov. 14, 1987: Patty weds Rogelio de Jesus Baena.
Early 1997: While it's unclear if Patty and Arnie's fling was a one-time indiscretion or a more prolonged affair carried on over a lengthy period of time, they were certainly engaging in their extramarital activities around this time, as this is when Baena became pregnant with his child. Disturbingly, it's now clear that there was significant overlap between the women, as it was at the exact same time that Shriver was pregnant. Sperminator, indeed.
Sept. 27, 1997: Maria gives birth to Christopher Sargent Shriver Schwarzenegger, the now estranged couple's fourth and youngest child.
Oct. 2, 1997: Just five days later—yes, five days—Schwarzenegger's out-of-wedlock son with Patty is born. Baena used a different last name—Pena—on the birth certificate, and also listed her then-husband, not the future governor, as the birth father. As the boy is a minor, his first name has not been revealed.
Oct. 23, 1997: According to her divorce filing, and just 21 days after the birth of the child he was made to believe was his, Patty separated from her husband of 10 years.
Fall 2003: Schwarzenegger's sexual misconduct becomes front-page news as the actor turned political heavyweight begins his run as California governor. He and Shriver even appear on The Oprah Winfrey Show, at which point Shriver defended her husband's much-rumored antics. "I look at him with an open heart and I accept him with all his strengths and all his weaknesses, as he does me," she said.
Completely confoundingly, the existence of Schwarzenegger's illegitimate child is never discovered throughout either his runs for or his two terms in office.
Feb. 13, 2008: Not such a happy Valentine's Day this year. Baena files for divorce from Rogelio de Jesus, her husband and the presumptive father of her now scandal-plagued son, in Van Nuys. She cited irreconcilable differences as the reason for the split; however, the divorce is stil listed as pending. According to the documents, obtained by E! News, the couple is listed as having no children together, despite Baena's name being on the boy's birth certificate. Patty also has three other children.
March 2010: While she filed for divorce two years prior, Patty only just gets around to serving her estranged husband with the divorce papers in Great Neck, N.Y.
January 2011: Arnold leaves the office of governor and informs his wife Maria of his betrayal. She immediately moves out of the couple's Brentwood estate and into a Beverly Hills hotel.
April 26, 2011: Maria and Arnold "celebrate" their 25th wedding anniversary together.
May 9, 2011: Maria and Arnold shock the world by announcing their separation in a joint statement, saying, "This has been a time of great personal and professional transition for each of us. After a great deal of thought, reflection, discussion and prayer, we came to this decision together. At this time, we are living apart while we work on the future of our relationship."
May 10, 2011: While speaking at the 63rd Israel Independence Day Celebration in Los Angeles, Schwarzenegger publicly acknowledges the split, telling the crowd, "I want to take a moment and thank our many friends and family for the tremendous amount of support and love that you have given us in the last 24 hours."
May 17, 2011: Arnold drops yet another bombshell on an unsuspecting nation, announcing that he fathered an illegitimate child during his marriage to Shriver, though was scarce on the details.
"After leaving the governor's office I told my wife about this event, which occurred over a decade ago. I understand and deserve the feelings of anger and disappointment among my friends and family. There are no excuses and I take full responsibility for the hurt I have caused."
AP Photo/Charles Rex Arbogast
May 17, 2011: On the same day, Maria breaks her silence on the news, saying, "This is a painful and heartbreaking time. As a mother, my concern is for the children. I ask for compassion, respect and privacy as my children and I try to rebuild our lives and heal. I will have no further comment."
Later in the day, after being spotted dining alongside Oprah, Shriver appears at Chicago's United Center for a taping of one of the star-studded final episodes of The Oprah Winfrey Show.
"For more than 30 years, you have bestowed upon me the most amazing friendship," she told Oprah. You have shown love, support, wisdom and most of all, the truth." At that, Oprah squeezed her hand and the crowd erupted into thunderous applause.
May 17, 2011: The couple's 17-year-old son Patrick, who calls himself  "Patrick Shriver" on his Twitter page, posted the following message: "I love my family till death do us part," then quoted lyrics by rapper Fort Minor: "Some days you feel like s--t...some days you want to quit and just be normal for a bit." Patrick also added the hastag #family.
On the same day, his older sister Katherine, 21, tweeted out a more parent-neutral message: "This is definitely not easy but I appreciate your love and support as I begin to heal and move forward in life. I will always love my family!"
May 18, 2011: The other shoe drops. After previously being referred to simply as a loyal member of the household staff (and after at least one red herring), the media identifies the mistress and baby mama as Mildred Patricia Baena.