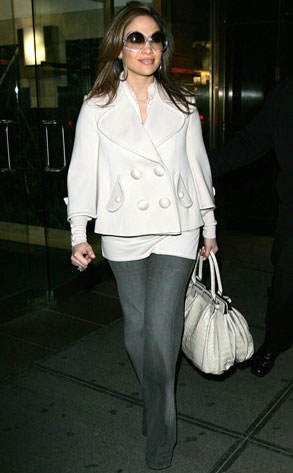 INFPhoto.com
UPDATE: The two parties reached a confidential settlement, the New York Daily News reported Dec. 22, 2009.
After making the deal, the plaintiff's attorney says Floyd, the chompy German shepherd in question, headbutted one of J.Lo's housekeepers in the stomach and bit her personal assistant's hand.
"The employees had to get medical help," lawyer William Cafaro said. Both employees testified [in depositions] that the attacks were not reported to authorities."
Marc Anthony stated in his own depo that he ultimately got rid of the onetime German police dog because he was "high maintenance."
_________________________________
One flight attendant isn't after the hair of the dog that bit her—she's after its owner.
Lisa Wilson has filed a $5 million lawsuit against Jennifer Lopez, alleging that the entertainer's German shepherd guard dog made the skies particularly unfriendly during a 2006 private flight by "attacking [Wilson] and biting her pant leg."