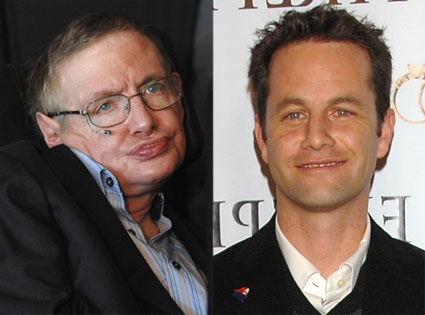 Stephen Shugerman/Getty Images; Dimitrios Kambouris/Wireimage
Mike Seaver has a bone to pick with one of the world's most prominent scientists...and, would you believe, John Lennon?
Two days after Stephen Hawking gave an interview in which he declared that in his wholly scientific view Heaven doesn't exist and that any such notion of the after-life was a "fairy story" for folks afraid of death, Growing Pains star-turned-evangelist Kirk Cameron is lashing out at the famed cosmologist, saying Hawking has no evidence to back up his claims.
So what did Kirk have to say—and just what the heck does the late Beatle have to do with this?
""To say anything negative about Stephen Hawking is like bullying a blind man. He has an unfair disadvantage, and that gives him a free pass on some of his absurd ideas. Professor Hawking is heralded as 'the genius of Britain,' yet he believes in the scientific impossibility that nothing created everything and that life sprang from non-life," the former TV star tells E! News.
The 40-year-old Cameron took issue with statements Hawking, 69, gave to the U.K.'s Guardian on Sunday ahead of a London lecture titled "Why Are We Here?"
"I regard the brain as a computer which will stop working when its components fail," said Hawking. "There is no heaven or afterlife for broken down computers; that is a fairy story for people afraid of the dark."
The comments expand on the thesis of the astrophysicist's 2010 tome, The Grand Design, in which he alleged that miniscule quantum fluctuations in the early universe led to the creation of galaxies and stars and life as we now know it and that the universe doesn't require a creator to explain its existence.
Not so, according to the Left Behind thesp.
"Why should anyone believe Mr. Hawking's writings if he cannot provide evidence for his unscientific belief that out of nothing, everything came?" Cameron queried.
And Cameron couldn't resist a poke at Lennon.
"[Hawking] says he knows there is no Heaven. John Lennon wasn't sure. He said to pretend there's no Heaven. That's easy if you try.  Then he said he hoped that someday we would join him," said Kirk, slightly misquoting the lyrics to "Imagine." "Such wishful thinking reveals John and Stephen's religious beliefs, not good science."
No word whether Cameron has read much of Hawking's writings. A rep for the actor was unavailable for comment. So far Hawking has refused to engage Cameron in the battle of the brains.