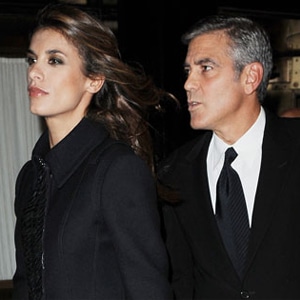 Humberto Carreno/startraksphoto.com
UPDATE! George Clooney is in London now, where girlfriend Elisabetta just arrived, and he tells us, "We are together and doing fine, as far as I can see." Good to know! Others aren't quite as convinced, read on:
________
Elisabetta Canalis may be a lingerie model, and she may look fierce lounging on a yacht in a barely-there bikini, but apparently that ain't enough to keep George Clooney's attention.
According to friends in Clooney's inner circle, the actor is so ready to move on. But he can't pull the trigger just yet:
"It's pretty clear he's over it and wants to move on. I just don't think he knows how," a close Clooney pal tells us. "Elisabetta seems nervous and unsure of herself around all of George's friends, which is strange because George's friends are all guys, married or middle-aged. There is no reason for her to feel insecure with them."
But the model was by her boyfriend's side as recently as a few weeks ago, when the two celebrated Clooney's 50th birthday at Mr. Chow in Beverly Hills, with a star-studded group of friends.
And thanks to Kirstie Alley's Twitter account, we all knew about it.
"George was sloshed on his birthday," one of Clooney's crew reveals to us. "His friends don't understand why he and Elisabetta are still together."
But while Clooney's pals have been chatty on the topic, his rep hasn't returned our request for comment.
Sounds like this relaysh is going by way of Clooney's brunette galpals of the past. Do the names Sarah Larson, Krista Allen and Lisa Snowdon ring any bells?
And while Elisabetta has been soaking up the sun flaunting her seriously toned curves on Roberto Cavali's yacht in Cannes this week, Clooney has yet to be seen.
Trouble in paradise, eh George?